A moveable feast fit for a king, or queen
2009. 19 May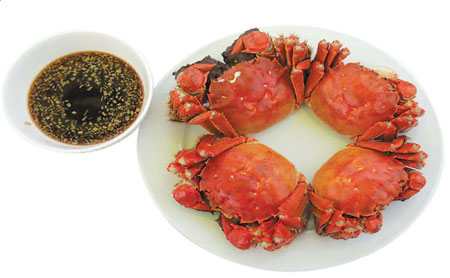 (english.rednet.cn) People will have an opportunity to taste hairy crab, a famous dish in Shanghai, at the 2010 Expo. Gao Erqiang
  While Beijing strove to ensure the world remember its trademark Peking roast duck during last year's Olympics, Shanghai is ready to treat its guests to local snacks such as hairy crab and soup dumplings (xiaolongbao) for the upcoming expo.
  Next year's World Expo is expected to attract 70 million tourists - of which 10 million are expected from overseas - as it presents a festival of cutting-edge technology, national cultures and gastronomic delights.
  Visitors will be able to learn about and feast on China's famous "Eight Cuisines" - regional dishes distinguished by unique characteristics - at the specially-designed food court in the Expo Garden. Fast-food franchises will work alongside world-renowned chefs and touted culinary innovators to bring their passion and flair to the 400,000 daily tourists who are expected to visit the Shanghai Expo.
  Expo organizers have promised quick, delicious and affordable dining services while guaranteeing maximum food safety through managed tracking and monitoring systems.
  Exotic cuisine
  According to the rules set out by the Bureau of International Expositions (BIE), which regulates World Expo-related issues, up to 20 percent of each pavilion can be used for commercial activities. This includes selling products and providing dining services.
  With about 40 of more than 230 confirmed participating countries and regions electing to build stand-alone pavilions, this translates into a total area of 10,000 sq m - or 1.5 soccer fields - that can be turned into dining space.
  Most of the 40 stand-alones will outsource their catering services, said Lin Shengyong, head of the Shanghai Expo's service department for commercial activities. They will target high-end customers with a budget of over 200 yuan ($30) a head, he added.
  "About 30 percent of business tourists will choose these upscale dining services for the purpose of public relations or business talks," he said.
  France has invited French chefs from upscale Three on the Bund to feed its guests next year. Other countries will borrow top chefs from local five-star hotels.
  Public dining
  As well as the international cuisine on offer at the stand-alone pavilions, most expo visitors are likely to head to the garden to sample a variety of fast foods, exotic cuisines, cafes and bars stretching over 78,000 sq m.
  Foreign brands including KFC, Pizza Hut, Hong Kong Maxim's Group, Starbucks and Manabe are among the first group of licensed catering businesses to sign up for the Shanghai Expo. They are joined by local brands such as Hakuna Matata, a restaurant specializing in African food and culture, Shanghai Old-Town Temple Restaurant, Jardin De Jade and South Beauty.
  "Innovation and the blending of cultures are at the heart of the 2010 Expo. This is quite similar to the development trends our company is experiencing now in China," said Eric Han, vice president of Yum! Restaurants China, which operates KFC and Pizza Hut.
  Lin said Chinese fast food will probably account for 30 to 40 percent of catering services at the garden. "Chinese brands are now ready to take on their foreign counterparts in direct competition," he added.
  Hong Kong Maxim's Group, which established its reputation at the Aichi Expo in 2005 in Japan, has acquired an area of 1,900 sq m in the garden. It will recruit chefs from Hong Kong to unshackle their imaginations and arrange creative menus, said a spokesperson for the group.
  With 12 months to go, Shanghai Expo organizers are already working furiously to enlist the second batch of catering businesses.
  Chinese staples
  At the center of the expo site, a 16,000-sq-m food court will be created to present China's eight regional cuisines (Shandong, Sichuan, Guangdong, Fujian, Anhui, Hunan, Zhejiang and Jiangsu). Visitors will have an opportunity to taste authentic tangyuan, or stuffed dumplings made of glutinous rice flour served in soup, as the Sichuan Laitangyuan Food Co. will present this traditional dish at the event. Each provincial food will be supervised by a company from that particular region.
  Genuine Taiwanese dishes will also be available as negotiations are under way to introduce the island's signature dishes at the garden, said Lin. Muslim foods will also be available, he added.
  Fast and cheap
  Answering concerns about whether food in the garden will be too pricey or entail long waits on the part of hungry visitors, organizers promised that service will be fast and cheap.
  Shanghai has accepted bids from Western fast-food chains with the aim of keeping prices down generally throughout the garden. This differs from the policy of the Aichi Expo in Japan, when similar chains were shut out and prices soared, according to Lin.
  "The dishes served at the Shanghai Expo Garden are expected to be relatively inexpensive as many outlets will need to stay competitive (with the fast-food chains)," Lin said. "Otherwise they will lose their market share."
  Organizers said they will strive to cut the average waiting time to less than 10 minutes.
  Shanghai Expo visitors will also be able to enjoy their meals in more comfortable and spacious surroundings than was possible at the previous World's Fair. Whereas in Aichi, every 1,000 visitors were crammed into an average space of 109 sq m, this area space will almost double to 200 sq m in Shanghai.
  To further speed things up, organizers plan on planting numerous convenience stores in the garden while prodding food businesses to deliver dishes in as timely a manner as possible.
  Tourists will also have free access to potable water at the 5.28-sq-km garden's numerous faucets.
  Food hygiene
  To ensure food safety, organizers have imposed a high threshold for catering businesses looking to operate at the site and inspectors will monitor how they perform. Only businesses with a clean record under their local food safety watchdogs can apply for a license. Furthermore, food inspectors will roam the garden at random to track information at each dining site.
  Organizers will also take notes from veteran expo host Japan by hiring Japanese companies well-versed on catering for exhibitions and trade fairs to provide the highest-quality service.
  "The Japanese have a lot of experience," said Lin. "They tend to provide dishes that are processed at high temperatures, such as barbecues, rather than deal in raw salmon, sushi and foods that are hard to preserve."
Source:
http://english.rednet.cn