90% built, but clock is ticking
2010. 13 January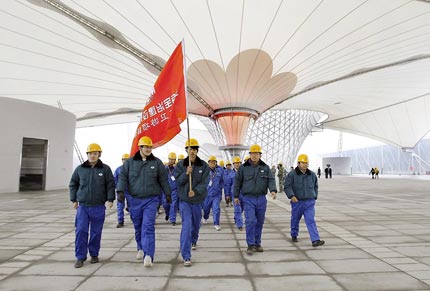 Construction workers walk along the Expo Boulevard during an oath-taking ceremony yesterday at the World Expo 2010 site. More than 700 worker representatives pledged to finish the whole project on time.

by Yang Jian
(shanghaidaily.com) The Shanghai World Expo organizer has finished 90 percent of construction at the Expo site but "time is still urgent" for the rest of the work, which needs to get done by the end of March, a senior official said Monday.
Management is encouraging Expo's 30,000 construction workers to postpone plans to go home for the Spring Festival, which lies on February 14, and head back to the construction site earlier after the festival, said Xi Qunfeng, director of the Construction Department of the Bureau of Shanghai World Expo Coordination.

The goal is to be ready for a trial operation ahead of the Expo opening on May 1, but there is still plenty to build before that can happen: roads, parking lots, public squares, green lands, shuttle bus stations and other support facilities, Xi said.

With only about 100 days to go before the opening, the calendar is the most pressing problem, Xi said.

More than 70 percent of construction has been finished on the roughly 100 foreign pavilions, said Xi.

All the 42 stand-alone pavilions, built by the participants, have started construction.

The organizer is urging all the participants to finish construction by the end of February and complete outfitting by the end of March.

Another 42 rented pavilions and 11 joint pavilions have been completed. The organizer is waiting the participants to take over the pavilion and start the outfitting.

Construction has finished on the five permanent structures: China Pavilion, Theme Pavilion, Expo Center, Performance Center and the Expo Boulevard.

All the parks and green areas, accounting for 30 percent of the 5.28-square-kilometer Expo site, are to be established by the end of January.

The Expo entrances, public squares and the 100-square-kilometer parking lots for tour buses are scheduled for March 10.

The Expo will have three trial operations in April. The site will open to 100,000, 200,000 and 400,000 visitors on a preview basis.


Source:
www.shanghaidaily.com