Shanghai unveils host pavilion
2010. 14 January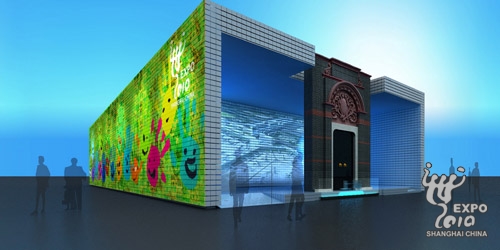 Host pavilion

by Yang Jian
(shanghaidaily.com) Shanghai will showcase the city's "tolerance, energetic and innovation" in a shikumen-style building in China's joint-provincial pavilion at the World Expo 2010, the Expo organizer revealed today.

The host city's exhibition theme will be "New Horizons Forever."
Shanghai is a fast developing city and always moving forward to new horizons, the organizer said.

The exhibition will help visitors understand the city through objects and pictures. It will also show a future Shanghai that is more "attractive, integrated and intelligent."

The exhibition will only be a small part of the city's Expo showcase. The real showcase of Shanghai will be everywhere - all around the city.

"The whole city will be the real Shanghai Pavilion," the organizer said.

The 600-square-meter pavilion features an entrance resembling shikumen, a traditional stone-gated house initially built in the city in 1854 by European colonists. They built the houses in foreign settlements to rent them to Chinese refugees. In the past, up to 80 percent of the city's population lived in this type of house.

The outside walls of the 7-meter-tall building will covered by hundreds of city photos taken by residents and visitors. The organizer has received more than 40,000 entries since it began to collect designs for the city's exhibition at the beginning of last year.
Source:
www.shanghaidaily.com