340 Days To the Future of Shanghai
2009. 21 May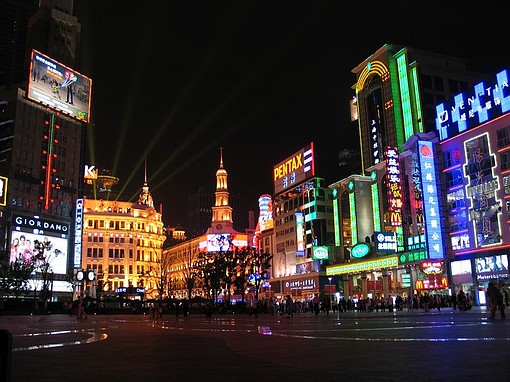 (thejakartaglobe.com) Shanghai is on the clock.
The eastern Chinese city is counting down the rotations of the Earth until the start of Expo 2010, the world fair expected to draw 70 million visitors over six months.
Scheduled from May 1 to Oct. 31, 2010, it will be the first time the large-scale, high-profile international event has been held in a developing country.
Throughout the city of 18.8 million people, oversize clocks loom on plaza squares and inside public buildings. Many visitors, especially Chinese, stand beneath them, straightening their spines and grinning for the camera as Shanghai gets a few ticks closer to opening day.
Expo clock-watching would be a sport if Shanghai knew how to kill time. But the city, an economic renegade in the communist country, is dialed to high speed, trying to be the first to reach some undefined finish line. Drivers disregard speed limits and red lights; pedestrians move with the force of an undertow; futuristic-looking buildings materialize nearly overnight. Even the steamed dumplings are ready before you've had a chance to unfold your napkin.
While Shanghai fixated on its next horizon, I wanted to take a few steps back, to return to the past before catapulting toward the city's future. But first, I had to drag myself away from that clock.
For a crash course in Shanghai's chronology, find a spot on the Bund, the scenic quay along the Huangpu River, and spin 360 degrees. During that whirl, you will take in tourists snapping pictures and eating cotton candy; 19th-century neoclassic buildings once lorded over by Western traders and bankers; and, across the water, the Jetsonian skyline of Pudong, the most recent district to spring from Shanghai's soil. In that wide-angle gaze, you will witness the old, the new and the now.
"It's an ancient city and a modern city," said Zhu Tao, a student I met at the City God Temple, a Taoist shrine that was built almost 600 years ago and has been destroyed, reconstructed and repurposed many times since. "Now, it's an international city and the heart of Chinese economics."
Unlike other Chinese destinations, the former fishing village near the mouth of the Yangtze River was significantly shaped by Western influences, a consequence of the 1842 Treaty of Nanjing, which opened the port to foreign trade. Europeans and Americans streamed in, unpacking their tastes from home, such as horse racing, cabarets and red meat. They staked out settlements (the Brits and Americans in the International Settlement, the French in the French Concession), leaving the Shanghainese with a small patch of land now called Nanshi, or Old Town.
Wars, political movements including the Cultural Revolution and progress have altered and even obliterated the vestiges of yore. To safeguard its artifacts, the city has waved its preservation wand over numerous neighborhoods, monuments, temples and ancient gardens from the Ming and Qing dynasties.
Despite the government's best efforts, the rise of the global market — hundreds of Fortune 500 and multinational companies share a Shanghai address — has blurred the borders and fuzzied the characters of these neighborhoods. On a map, the areas appear clearly defined; on foot, I never knew whether I was in the French Concession, the International Settlement or Old Town. I frequently ended up lost and searching wildly for my North Stars, the recognizable landmarks of the Bund, Renmin Square (the Central Park of Shanghai, also called People's Park) and the river. When that failed, I asked a lot of people for directions.
Sleeping with history isn't as musty as it sounds. The Astor House Hotel, a grand dame with a few wrinkles, was the city's first Western-style accommodation, built during the Qing Dynasty (1846 using a Western calendar). Famous overnight guests included Charlie Chaplin and Albert Einstein, and for a few extra yuan, you can request the rooms those greats stayed in.
En route to East Nanjing Road, the busy commercial thoroughfare dating from 1851, I walked along the Bund and through the International Settlement, passing stately banks, trading houses and other financial firms once run by the West's business elite. The mile-long strip is an architectural buffet, embracing such styles as art deco, Romanesque, Gothic and beaux-arts. Standing before the HSBC Building, a neoclassic model with Ionic columns and a Greek-inspired dome, I was teleported to a European capital; the sound of Mandarin snapped me back to Shanghai.
Nanjing is considered one of the busiest shopping streets in the world, and that has long been true. Archived photos at the Urban Planning Exhibit Hall in Renmin Square show horse-drawn buggies rolling along the unpaved road, passing storefronts festooned with red banners inscribed with Chinese characters. More than a century later, the mode of transportation has changed, and the signs are electric and written in English. But the thoroughfare's purpose remains fixed.
The blocks-long shopping strip is pleasantly democratic and stripped of retail snobbery. East Nanjing is no Fifth Avenue. Gaudy emporiums, higher-quality boutiques and sprawling department stores flow into one another. I could buy a hand-sewn silk jacket the color of a rose petal for $160, then go two storefronts over for a pair of beaded "silk" flats for $9, bargained down from $21. This is also the marketplace for knockoffs.
Unlike brash East Nanjing, Old Town revealed itself with a whisper. The tight back lanes, which barely fit two bikers riding side by side, were lined with laundry draped from lampposts, wires and cornices, ghostly figures dancing in the breeze. Four men played mah-jongg under a dangling pair of sweat pants. Patrons ate bowls of steaming noodles at plastic tables pushed against the wall of the City God Temple. If necessary, they could use the sock overhead as a napkin.
With little warning, the residential quadrant spat me out into a massive shopping complex full of purchasing potential. Before 1949, this area was a Chinese settlement encircled by a wall built to rebuff Japanese intruders. Now, East meets West meets Visa. One of the main attractions is the Yuyuan Bazaar, a crazy labyrinth of shops fashioned after Qing and Ming architectural styles. The stores sell the Best of China — pearls, tea, silk, chopsticks, cats with bobbing paws — and the restaurants serve Shanghai specialties, such as the slurpy soup dumplings at the 100-year-old Nanxiang Steamed Bun Restaurant. Abutting the outdoor mall is Yuyuan Garden, a more than two-hectare sanctuary built by a government official for his parents and completed in 1577.
At a street corner near the walled entryway of the garden, I was approached by a gentle man with a smooth, round face, crooked teeth and button eyes. He asked if I needed help but knew exactly what I required: directions and a cup of tea (not in that order).
As Chen Shen Sheng guided me to his shop, weaving through throngs of shoppers, I told him about my quest to find Shanghai's past. As we passed beneath the winged tip of a faux-pagoda rooftop, he looked at me with a mix of amusement and regret and said, "If you want to see 2,000 years of history, you go to Xi'an. If you want 500 years of history, go to Beijing. If you want to know what will happen, you go to Shanghai."
Upstairs in the tea shop, a brightly lit space with a low table set with stools and a tea-brewing station, Chen sat beside me and started talking about the history of tea, Shanghai now and then, his own past and present.
Over doll-size cups of jasmine tea and oolong, he spoke effortlessly about how at age 19, during the Cultural Revolution, he was sent 1,450 kilometers away to the countryside to "learn about the land and farm." He taught himself English by listening clandestinely to the Voice of America. When the government's economic policy shifted from agriculture to urban factories, he was allowed to return to Shanghai and his family. He worked at a tire plant, then opened a pearl store in Yuyuan, adding the tea shop five years ago to occupy the men while their wives browsed the jewelry cases. He does not own land but says he is satisfied with the direction his journey took. "I missed Shanghai, but I am home now," he said.
On my way out, he handed me a small freshwater pearl from an oyster tank near the door. The pearl was shiny and new, but it was also part of China's oyster-harvesting tradition that stretches back thousands of years.
Shanghai, an economic bull, is not shy about its 21st-century achievements and expansion. In terms of bluster, it's almost like Texas during the oil boom. It shows its might through multimillion-dollar skyscrapers that pierce the sky and a brocade of neon that outshines the constellations. Any concerns about communism squelching capitalism are quickly dismissed by the ubiquitous images of Mao Zedong on kitschy souvenirs, including alarm clocks (his arms tell time), ashtrays (so many places to stub your butt) and piggy banks (the coins drop through his cranium). A more harmful consequence of the accelerated growth is environmental degradation: The air is thick with pollution, and the river has become a dumping ground for untreated sewage.
Nearly 20 years ago, the land now occupied by the business district of Pudong was farmland and open country. Now, the so-called New Open Economic Development Zone is commerce on performance-enhancing drugs, with hulking conference centers, hotels, financial offices, malls and a stacked skyline. The most recent addition to this vertical mise-en-scene is the 492-meter-tall Shanghai World Financial Center, which opened last year, becoming the tallest structure in mainland China and the second-highest in the world. Its observation tower affords views from an impressive 474 meters, but sometimes height does not matter.
The structure that most screams "ascend me" is the gaudiest edifice in Pudong, the Oriental Pearl TV Tower. The 468-meter-tall building features a pair of plump bulbs on a slender frame that lights up like Christmas in Vegas. I much preferred its cartoonish goofiness over the serious gray facade and minimalist design of the financial center.
Up in the observation tower, I walked the circumference, ticking off the monuments deserving a dot on Shanghai's time line: the Bund and the International Settlement, Nanjing Road, Pudong and the Shanghai World Financial Center. Then I peered beyond the bright lights into a dark and empty stretch of ground along the Huangpu River. In a little more than 340 days, Expo 2010 will open here, and the future of Shanghai will become the present.

The Washington Post