Countdown to Shanghai World Expo begins
2010. 25 January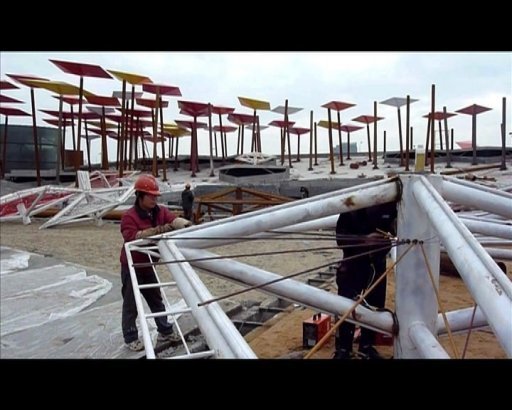 by Pascale Trouillaud
(AFP) Less than 100 days before the World Expo opens in Shanghai, armies of workers wearing yellow and orange hard-hats are buzzing around a huge muddy site where the pavilions are far from finished.

But officials say preparations are on track for the massive six-month event, which is due to bring at least 70 million visitors streaming into

China's biggest city from May 1.

"We're confident as we've been working on this for eight years," said Xu Bo, assistant commissioner general at the World Expo.

"Right now 90 percent of the structural work is finished and now we're starting interior work."

Less than two years after China successfully hosted the Beijing Olympics, Expo 2010 will offer the Asian giant a new opportunity to impress the world, and organisers promise the event will be record-breaking.

The site is the biggest ever for an Expo and it will welcome a record 192 participating countries and 50 international organisations, along with the mammoth number of visitors, most of them Chinese.

"The Expo is a sign of power, and for us it's a very strong symbol," Xu said about the first Expo to be held in a developing country, funded by a budget of more than four billion dollars.

China has also allocated 14 billion dollars for new highways, subway lines, road repairs and the renovation of many districts in Shanghai -- a figure that does not even include the expansion of the city's Pudong airport.

"Shanghai has become a permanent building site," said Xu.

Authorities also shut down 272 "very polluting" factories, one shipyard and relocated 60,000 residents to make way for the vast Expo site on the banks of the Huangpu River.

Welders, masons, electricians and plumbers are now stepping up their efforts to transform the site still full of mounds of earth, bricks and cables into a field of Expo dreams, full of national pavilions with bold designs.

The British pavilion looks like a giant ball of acrylic rods, Poland's construction brings to mind intricately cut paper and Germany's is built at sharp angles.

The French pavilion opposite is cloaked in a concrete fishnet, while Switzerland's will see visitors ride chair lifts on the building's grassy roof.

Japan, meanwhile, has chosen a kind of purple turtle, the Netherlands a bright yellow tulip, Romania a big green ball and Finland a huge white bowl.

The biggest of all is China's main national pavilion -- a large, red inverted pyramid that can be seen from far away and which Xu says represents "wisdom, wealth and harmony."

And China's Expo performance centre, which looks like a flying saucer, can house an audience of up to 18,000 people.

"Better city, better life" -- organisers hope the Shanghai Expo will allow for reflection on the idea of long-lasting and green urbanisation and are putting the emphasis on energy-saving.

On the as-yet-unfinished "Expo Boulevard," huge trumpet-shaped structures will soak up the sun's rays to light up galleries and catch the rain to water the green areas.

The separate Chinese theme pavilion, which will host exhibitions during the Expo, is covered in solar panels, visitor shuttles are electric and all the lighting used to illuminate the building at night is energy-efficient.

As the start of the Expo nears, 18 million tickets have already been sold -- more than expected at this stage.

With organisers planning for peaks of 800,000 to one million visitors a day, security is a major headache for authorities -- more than it was for the 2008 Olympic Games in Beijing as the Expo will last six months.

"We will try to limit the number of visitors some days," said Xu, who added that China "wants foreigners to come" when asked about the possibility of visa restrictions such as those implemented during the Beijing Games.

Foreigners are expected to account for five percent of total visitors, or at least 3.5 million people.

At the French pavilion, marketing director Franck Serrano said he hoped to attract 10 percent of visitors.

Copyright © 2010 AFP. All rights reserved.