Advisor wants free tickets for all
2010. 26 January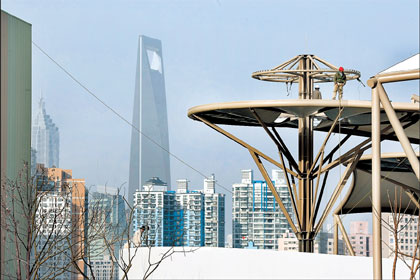 Expo workers toil away on top of a building at the Urban Best Practices Area of the 2010 World Expo site yesterday. The Expo organizer has finished 95 percent of construction at the area in Puxi and all 50 best practices exhibitions will be ready to receive visitors when the Expo opens, a senior Expo official said yesterday. No UBPA pavilions will be among those hit by delays when the event begins, said Sun Liansheng, director general of the UBPA department. Sun was responding to fears that some pavilions might not be ready for visitors when the event opens.

by Xu Chi
(shanghaidaily.com) City government should offer every local resident a free ticket to the World Expo as a reward for their support during the construction period, according to a proposal raised yesterday by Li Feikang, member of the CPPCC's Shanghai Committee.
Li said the 160-yuan (US$23.4) ticket is not affordable for many poor families.

"For everything they have contributed to the great event, local residents now should have an opportunity to taste their rewards," he added.

Shanghai invested nearly 30 billion yuan in the Expo preparations and operations, plus hundreds of other projects to upgrade city infrastructure and improve the traffic network. Massive construction and renovation projects not only forced many residents to make way for the Expo site, but also plagued the public with traffic inconvenience and a dirtier environment.

On many occasions, Shanghai Mayor Han Zheng and Party Secretary Yu Zhengsheng expressed their gratitude to local residents for their strong support to the construction work before the event.

The proposal is a substantial demonstration of thankfulness, Li said.

Officials from the Bureau of Shanghai World Expo Coordination said they had prepared free tickets for residents who had to relocate their homes for the World Expo site, with one free ticket for each household.

But the bureau could not afford the huge expense of providing free tickets for all local residents, officials said.

"As a Shanghai resident, I appreciate the proposal put forward by Li as we have surely been living through tough times due to the construction projects everywhere," said Ni Liming, a 49-year-old local resident.

Ni said she still felt proud of the event even though it had caused some troubles to her, as well as to other residents, such as the heavy traffic, road closures and other inconveniences.


Source:
www.shanghaidaily.com