The City of the Future Echoes the Past
2010. 26 January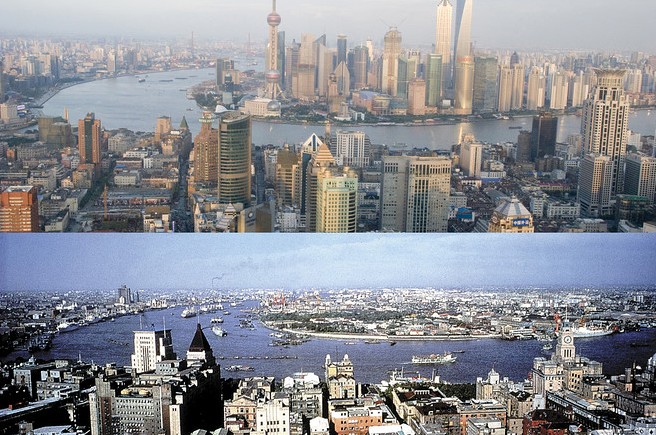 "Change since 1950"

by Julie V. Iovine
(online.wsj.com) Beijing burnished its international reputation with a handful of acclaimed icons built for the Olympics. But Shanghai is still the Chinese city that appeals most to foreigners, thanks to its checkered past, colonial architecture and mercantile drive—qualities that don't need translating for most Westerners.
And yet, in recent years, the pace of change in Shanghai has accelerated at such a blistering rate—400 skyscrapers rising in the historic core alone since 1990—that holding on to a coherent impression of the contemporary city is almost impossible. The relentless escalation seems daunting, even a little scary. A visit to "China Prophecy: Shanghai," now at the Skyscraper Museum through April, is a handy way to get a better grip on the changes under way in this clamoring, glamorous city.
Built around the plausible conceit that Shanghai today is experiencing the explosive urban creativity and convulsive growth last seen during the skyscraper age of New York in the '30s, the show sets out to "juxtapose a retrospective of American visions of the skyscraper city of the future from the early 20th century with an exploration of Chinese cities today, pursuing the parallel conditions of rapid modernization and urbanization."
If Shanghai today "reproduces and surpasses New York in the '30s," when it was home to seven million people and sprouting up with 200 skyscrapers (at that time more than in all other cities in the world combined), its cosmopolitan status can be attributed in part to the American architects at work there. The show focuses on a cluster of three skyscrapers, or "supertalls" between 88 and 128 stories, all designed by American firms: Jin Mao by Skidmore, Owings & Merrill; Shanghai World Financial Center by Kohn Pedersen Fox (KPF); and Shanghai Tower by Gensler. The oldest and shortest, 88-story Jin Mao, completed in 1999, assumes the shape of a stretched pagoda; while the tallest, Shanghai Tower, which is under construction and due for completion in 2014, is already leaping ahead technologically and aesthetically with a twisting glass and steel cape wrapped around nine stacked atriums at its core. Not incidentally, all three are Manhattan-like in their proximity to water as they rise in Pudong, a peninsula jutting into the Huangpu River that was designated by Deng Xiaoping in 1990 to be the pulsing heart, and financial center, of the metropolis.
More celebratory than skeptical, "China Prophecy" notes the irrepressible energy, the posturing, and the power plays that it takes to translate ambition into a skyline. Plaza 66, a two-tower commercial project completed in 2006 on busy Nanjing Road, has the kind of sky bridges once envisioned for a future Manhattan according to an accompanying photograph of a 1931 Regional Plan of New York. Another high-rise complex of offices, hotels, retail and restaurants, Jing An Kerry Centre, also designed by KPF, was explicitly modeled after Rockefeller Center with towers arrayed around a 32,000-square-foot central plaza; at the show, a model of the center is set in front of a historic rendering of the real Rockefeller Center to underscore the similarities.
Looking back at the jazzy age of New York skyscraper-building, we might imagine the mood back then was pure excitement and swagger, forgetting that there was probably also the anxiety of displaced residents, official disregard for old building stock, and developers' bullying techniques. Watching Shanghai grow even from afar, we can capture that dual sense of optimism and fear that accompanies most ambitious development. When Deng publicly blessed the development plan transforming mudflats and warehouses into Pudong, he pronounced it the "Head of the Dragon," while some million village people were swept out of the way without much notice.
The show is small but knowing and loaded with riveting minutiae, including a video panning across an official 8,000-square-foot model of the city showing all existing and even future building projects in Shanghai. (Surely, one of the perks of owning all the land is that the state knows what's going to go where way ahead of everyone else.) Details about how materials found their way into the show—for example, a German photographer found on Flickr was commissioned to make a compelling you-are-there video, filmed while traveling through town on a Changjiang motorcycle—hint that the museum subscribes to the same ad hoc opportunistic spirit of the skyscraper-builders themselves.
Does "China Prophecy" offer more than an exercise in compare, contrast and celebrate? One final video is actually quite provocative. Spliced together side by side, the clip juxtaposes a film from the Democracity and Futurama displays at the 1939 World's Fair in New York with a promotional video for Shanghai 2010 Expo, with its theme "Better City, Better Life." Both extol elevated highways and skyscrapers rising from verdant green acres. To our contemporary eyes, Futurama may look rather quaint, but in Shanghai those same visions are already reaching for the sky and beyond.
Ms. Iovine is the executive editor of The Architect's Newspaper.
Source:
online.wsj.com