Taiwan to take part in 2010 World Expo in Shanghai
2009. 23 May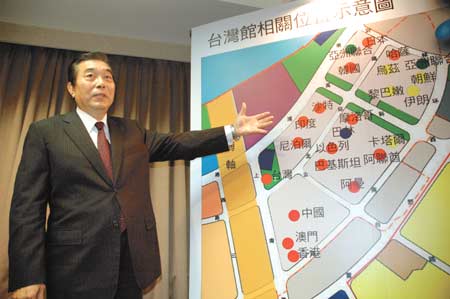 By Maubo Chang
(etaiwannews.com) Taiwan will take part in the 2010 World Exposition in Shanghai after a hiatus of 40 years, but it will do so as a nongovernment organization.

Wang Chih-kang, chairman of Taiwan's leading trade promoter, the Taiwan External Trade Development Council, told a news conference Friday that his council had received an

invitation Thursday to set up a Taiwan pavilion at the fair which was slated for May 1 to Oct. 31, 2010.

The invitation was extended by the Paris-based International Exhibitions Bureau, which regulates the fair, and means Taiwan will participate in the expo for the first time since 1970, when it was held in Osaka.

Noting that the Shanghai expo is expected attract 190 countries and 48 international organizations, Wang said it is a good opportunity to showcase Taiwan's economic power and excellent culture.

He said China began exploring the possibility of having Taiwan participate since September last year.

Because the fair is an important global economic activity that Taiwan should attend, Taipei authorities decided to join it as a nongovernmental group.

The Taiwan External Trade Development Council was thereby given the responsibility of developing a pavilion for the show, Wang said.

The council plans to raise NT$1 billion (US$30.66 million) from local businesses to finance the cost of Taiwan's pavilion, which will feature local delicacies and performances of its cultural and artistic groups.

Taipei City already announced a plan on June 22, 2008 to set up a pavilion at the show to showcase the city's wireless Internet and waste recycling program, which it called "a green miracle." The city's pavilion, to be built at a cost of NT$300 million, will be financed by the Hon Hai Group, Taiwan's leading electronic manufacturing services provider.

Taiwan invited to take part in 2010 Shanghai world expo (chinapost.com.tw)

Taiwan has been formally invited to take part in the Shanghai world expo, Taiwan External Trade Development Association president Wang Chih-kang announced yesterday.

Showing a letter of invitation at a hastily called press conference, the Taitra chief said a Taiwan Pavilion will be erected for China's first ever world exposition from May 1 through October 31 next year.

"It will be the first time we are participating in a world expo in 40 years," Wang said.

The last expo Taiwan took part in was held in Japan in 1970. Taipei still maintained diplomatic relations with Tokyo then.

When two more expos took place in Japan after Tokyo switched diplomatic recognition from Taipei to Beijing, Taiwan was represented at neither. But more than half a million people from Taiwan visited the Nagoya Expo in 2005.

The letter was received in Taipei at 6 a.m. "We are very much satisfied," Wang said, "that Taiwan has been invited to attend."

Wang is equally satisfied that the Taiwan Pavilion will be located in an area that is the easiest to access in the vast 2010 Shanghai Expo compound opposite the world-renowned Bund across the Huangpu River.

"Ours is next door to the China Pavilion, which is going to be the top attraction of Shanghai Expo," Wang said. The Taiwan Pavilion will be in Area A, that is assigned to Asian countries. Its neighbor pavilions will be erected by Nepal, India, Saudi Arabia, South Korea and Japan.

Altogether NT$1 billion (US$30 million) is needed to build the Taiwan Pavilion, Wang said. "We'll raise it by asking for contributions from big businesses," he added.

At least one of them has already committed himself. He is Terry Guo, chairman of the Hon Hai group who has pledged NT$300 million (US$990,000) for construction of a Taipei pavilion as part of the Taiwan Pavilion.

A total of 190 countries will be represented at the 2010 expo. Forty-eight international organizations will also take part.

"Shanghai Expo," Wang said, "offers the best chance to our businesses to sell their products and services." Tens of millions of people all over the world will visit the six-month world exposition.

Expo-goers from Taiwan may total one million.

Moreover, Taipei is planning to hold a "flower exposition" in the half year during the Expo to attract visitors to Shanghai to come to Taiwan.