Treasures for Expo put port on high alert
2010. 13 February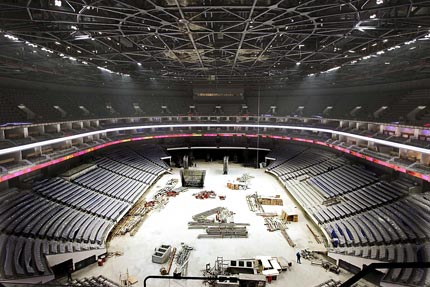 Inner decoration is under way yesterday at Expo Culture Center, formerly known as the Expo Performance Center. It will be China's largest comprehensive performance arena, and the only one with movable seats.

by Yang Jian
(shanghaidaily.com) Police and security guards will guard participant countries' treasured exhibits around the clock for the World Expo 2010 after they arrive at the Shanghai port.
Cameras will be set up around the port to watch the containers for the precious exhibits and police will be stationed - the port's top level of security, said Yan Jun, assistant president of the Shanghai International Port Group.

The group signed a contract yesterday to receive all Expo cargoes being shipped to the city.

Many Expo participants are bringing national treasures to the Expo, including the Little Mermaid statue from Denmark, a Van Gogh painting from France and Buddhist relics from Nepal.

Similar security measures will be used to protect materials for the opening ceremony of the Expo on the night of April 30, he said.

Nineteen containers have been shipped to the port for the opening ceremony.

The organizer is keeping the contents secret, Yan said.

More than 90 percent of the exhibits and materials for both domestic and foreign Expo participants will be shipped to the city.

Most are expected at the beginning of April.

The gourp expects 300,000 standard containers to be shipped to the port for the Expo, accounting for only 1 percent of the total annual throughout capacity of the port.


Source:
www.shanghaidaily.com