Liu Xiang:Goodwill clears all hurdles
2010. 15 February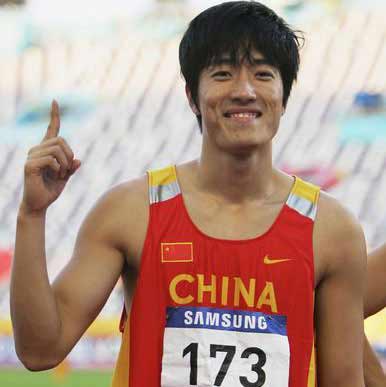 Liu Xiang, born in Shanghai in 1983, is a 110-metre hurdler. After he won a gold medal at the 2004 Olympic Games with a new world record of 12.91 seconds, he became one of the China's most commercially successful athletes. He is one of the three worldwide ambassadors for the 2010 Shanghai Expo.

(english.eastday.com) For me, December 3rd, 2002, will always live in my memory.
In a TV broadcast program that evening, a reporter in Monaco started singing the Chinese national anthem after reporting that Shanghai had won the bid to host the 2010 World Expo. Firecrackers exploded in my neighborhood as we all rushed out to celebrate. I was overtaken by special pride because I am Shanghainese.   Chinese Version >>
Seven years have elapsed in a flash. I participated in two Olympic Games and learned a lot in the process. One day, when my father drove me across the Lupu Bridge, we saw the China Pavilion for World Expo 2010 Shanghai China, which was still under construction. My father asked me,"Did you see the China Pavilion? Isn't it beautiful?"I really hadn't noticed before because I was so absorbed by practice at the Shenzhuang Training Base. But at that instant, when I saw the pavilion, I was once against overwhelmed with pride and I suddenly realized that the Shanghai World Expo was drawing nigh.
At the Athens Olympic Games, I had the chance to talk with many foreign athletes. When they found out I came from China, they would invariably ask:"Which city?""Shanghai,"I would proudly reply. I felt it was important to be a goodwill ambassador for my hometown."It is a very charming, very global metropolis,"I would say."Come and visit when you get the chance."I can still remember the dinner I hosted for track-and-field champions from all over the world by the Huangpu River during the 2009 Shanghai Golden Grand Prix, during which Allen Johnson looked at the beautiful night views of Pudong across the river and kept saying,"This is so impressive!"I once again felt pride swelling up inside of me.
Thanks to World Expo 2010 Shanghai China, we will have an unparalleled opportunity to greet the world and show them our achievements and aspirations. I heard news reports that up to 4 million overseas visitors will come for Expo.
I am anxiously awaiting the opening of World Expo 2010. I have already invited my parents to visit the Expo Park with me. I look forward to experiencing the charms of my hometown as a local resident rather than an athlete. Of course, I stand ready to perform my duties as an exemplary host.
Let's build greater friendship through the World Expo and help the world better understand Shanghai.
Source:
english.eastday.com