New Zealanders bids farewell to Maori canoe as gift
2010. 18 February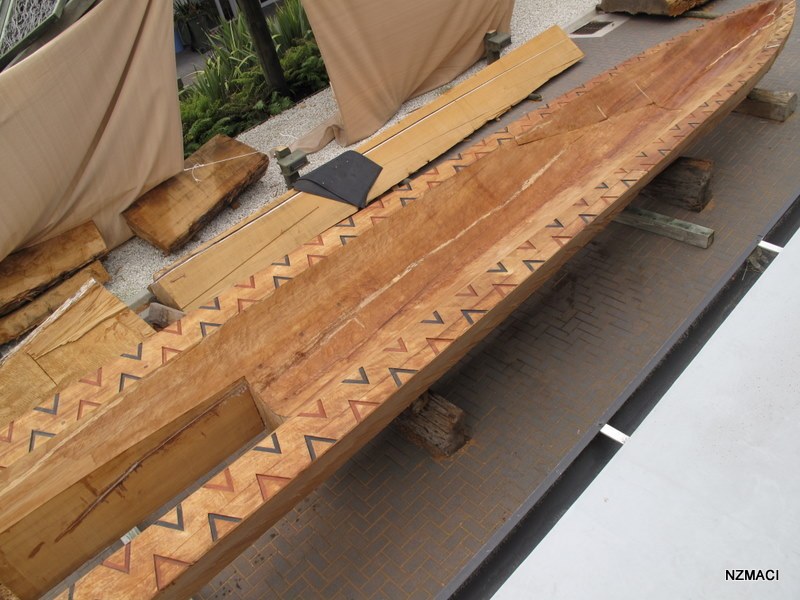 (news.xinhuanet.com) New Zealand Prime Minister John Key and Chinese Ambassador Zhang Limin carved a small area of the waharoa (gateway) at a Maori farewell ceremony at Te Puia Maori Village in North Island resort town of Rotorua on Thursday.
An official delegation including Prime Minister and Minister of Tourism John Key on Thursday bid farewell to a piece of Maori art that will take center stage at this year's Shanghai World Expo.
The 10 meter-high, 3 meter-wide kauri waharoa in the shape of a waka maumahara (ceremonial canoe) will be shipped to Shanghai next week, where carving will be completed on the forecourt of New Zealand's national pavilion at the Expo.
Tourism New Zealand Chief Executive Kevin Bowler said the waharoa will give visitors to the pavilion a chance to experience part of New Zealand's culture first hand.
"With 70 million people expected to pass through the expo over six months, this is an opportunity to get New Zealand in front of a mass of Chinese consumers.
"The waharoa will be left behind as a legacy of the relationship between the two nations, and help attract attention to New Zealand's unique culture and what we offer as a destination, " he added.
Prime Minister John Key, along with the Chinese ambassador, helped carve a small section of the waharoa as part of a poroporoaki, or farewell.
The project, which has been led by Te Puia, will be completed on-site at the New Zealand pavilion. Nine Te Puia carvers, including Head of Te Puia's carving school James Rickard, will spend two months in Shanghai completing the waharoa.
Named Te Kakano (The Seed), it will then be gifted to the people of China as a symbol of the relationship between the two countries.
Te Puia Maori Cultural Village chief executive Te Taru White explained that Te Puia was charged with the task of creating the 10 meter-high monument in a collaborative effort with Tourism New Zealand and the Ministry of Culture and Heritage which will culminate in the presentation of the piece to Chinese Officials at the Expo in July.
"The engagement of this extraordinary piece encapsulates the spirit of Manaakitanga (hospitality) and koha (gifting), both of which combine to create a lasting bond between the two nations of China and New Zealand" said Te Taru. The project name 'Te Kakano' translates in meaning as 'the original seed' which is significant in the growing of relations and bonds between nations.
Key told Xinhua that New Zealand hoped to grab world attention through Shanghai Expo and attract more foreign tourists to visit New Zealand.
The Shanghai Expo will be open between May 1 and Oct. 21. Around 400,000 visitors are expected to pass through each day.
The New Zealand Expo Pavilion, which has been developed and managed by New Zealand Trade and Enterprise, will take visitors through a 'day in the life of a New Zealand city'.
Chinese Ambassador Zhang Limin also made his mark on the waharoa which is bound for Shanghai's upcoming World Expo.
Source:
news.xinhuanet.com
Photo: 2.bp.blogspot.com