Singapore's music-box for expo
2010. 18 February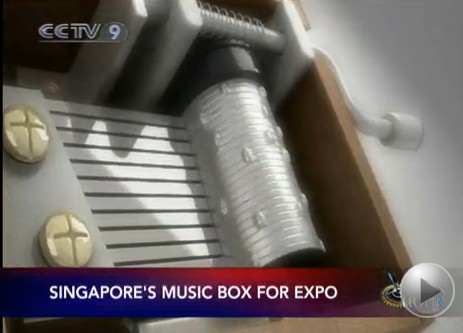 Video: Click to the picture!

(cctv.com) The Singapore Pavilion at the Shanghai World Expo is giving the country a new image. Shaped like a MUSIC BOX, and bearing the theme Urban Symphony, it takes the notion of symphony to mean balance and harmony.

A music box is a 19th century automatic musical instrument that produces an intoxicating melody. To capture the musical essence of their country at the 2010 Expo, Singapore will build their pavilion into the shape of a giant Music box. As one of the top 25 most vibrant global cities in the world, Singapore's expo theme is Urban Symphony. It is a tribute to how the country houses a delicate harmony of cultures coexisting together, much like the intricate details of a music box...

Singaporeans say their symphony is a harmony of progress and sustainability, urbanisation and greenery, tradition and modernity, and a cosmopolitan mix of different races living together peacefully. The pavilion designer says he had been twisting these concepts around in his head for quite some time. One day, he got inspiration from music.

Tan Kay Ngee, Singapore Pavilion Designer, said, "I think, lots of people don't know that we have lots of musicians, singers and playwrights, and all that. The musical box is very important because it's like something that you have to kind of interact with it. So you have to open it and you'll find surprises with that."

The 3,000-square-meter Singapore Pavilion broke ground LAST JUNE in Shanghai. Singapore's Prime Minister, Lee Hsien Loong said at the ceremony that his country is a strong supporter of the Shanghai World Expo. He added that the Singapore Pavilion will be the country's largest undertaking at a world expo.
It is Singapore's sixth time to participate in a world expo. This time, their investment will be three times as much as the 2005 Aichi Expo. Organizers expect to attract 10 million visitors to their pavilion. Singapore's tourism department says the 2010 expo seems to be perfect timing for them to introduce their latest tourism resorts.
Edward Koh Boon Wee, Chief Representative of Tourism Board, said, By the time May 2010, when it opens, Singapore's two integrated resources will be opened. The first is Marina Bay Sands, where we will combine our hotels, our conventions, exhibitions, our casinos, our shopping facilities and dining options, all in one place.The second integrated resource will be the Sentosa Island, where we also have a universal studio in Singapore. This is going to be Southeast Asia's very first universal studio theme park. And apart from that, we also have an ocean area. It's going to be world's largest ocean area.
Singaporeans welcomed more than one million Chinese visitors IN 2008. They hope that their promotion in Shanghai's expo would not only boost tourism, but also further strengthen the bilateral ties between Singapore and China.
Edward Koh Boon Wee, said, "In terms of showcasing, we have many suitable opportunities. because apart from May, by August, 2010 will be Singapore's 45th nation building anniversary. And by October, 2010 will be the 20th anniversary of celebrating Singapore and China's establishing diplomatic relations."
China is Singapore's 3rd largest trading partner, and the number one place for investment. Singapore is China's 8th largest trading partner. IN 2008, the two countries signed the Singapore-China Free Trade Agreement which lays the foundation for further growth in bilateral trade and investments.
Source:
www.cctv.com