Can you ban people from going out in pyjamas?
2010. 26 February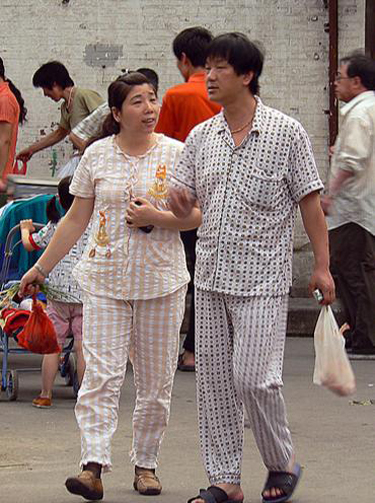 Photos posted by James Angrave

(observers.france24.com) Leaving the house in your pyjamas is nothing unusual in Shanghai, where locals blame their not getting dressed on high temperatures. In May this year however, when Expo 2010 begins in the city, the local authorities are planning to crack down on public pyjama-wearers. The slogan for their campaign: "Be civilized for the Expo, don't wear your pyjamas outdoors".
Shanghai is expecting 70 million visitors between May and October this year, when it hosts World Expo 2010 - the international technology, science and economy fair. The city has been preparing for the six-month event, considered the world's third biggest after the Olympics and the World Cup, for the past eight years. But there are still a few finishing touches. When President Hu Jintao visited the city in January, he called on locals to "do their best to finalize preparations and be a model host city for the event". Could he be talking about their unusual attire?
"If you're just hanging around near your place then wearing pyjamas is no big deal"
Xiaodong Du is a student in Shanghai.
This phenomenon has a long history in Shanghai. Back in the 1960s and even earlier (what we call 'old society'), pyjamas were considered a luxury and only worn by two kinds of people. The first - the wealthy, who wore pyjamas to demonstrate that they enjoyed an easy life. The second - people who worked in the entertainment industry, such as dancers, because they thought it charming. Up to the 1970s, wearing pyjamas became increasingly more popular, and seeing them in the street became part of the urban landscape of Shanghai.
Another reason for their popularity is the limited living space in the city - there's little privacy; it's convenient. Many people think that if you're just hanging around near your place and not attending a formal occasion, then wearing pyjamas is no big deal. However, it's very strange, and I trust it's not allowed, to wear them in a serious workplace. As one of China's international metropolises and financial hubs, the multi-national firms that function here require formal dressing. As for other workplaces like factories and service industries, they have uniforms.
At college most of the students pay a great deal of attention to their personal image. So it's rather rare nowadays to see someone wear pyjamas to school, unless he or she was really in a hurry that morning.
When I first came to Shanghai five years ago, the 'pyjamas debate' had already started. In 2006, the 'wearing of pyjamas to go out' was placed in the 'uncivilized behaviour category' in a report on family studies by the Institute for Social Development at the Shanghai Academy of Social Sciences. Considering the recent improvements in living standards, we can now say that what used to be a problem of getting dressed has evolved into a problem of education."
Source:
observers.france24.com