Buildings' beauty lures snapper back for more
2010. 28 February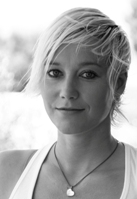 by David Maguire
(shanghaidaily.com) German-Born photographer Katarina Stuebe, 32, is becoming a regular visitor to Shanghai thanks to her architecturally trained eye's perspective through the lens of a sophisticated camera. Stuebe maintains homes in Mallorca, Spain, and Sydney and "discovered" China during a book tour last year to promote her pictorial essay on the Sydney Opera House.

Her lenses have been focused this year on projects in China where she has been commissioned to record the Australian Expo pavilion and a major new building in Nanjing.

Her expertise in understanding the complexities of design and construction and then visually capturing it is taking the interest of other Expo pavilion architects.

Q: What brings you back to Shanghai in terms of your photography?

A: I was contracted by the Australian government to document construction of its pavilion at World Expo 2010 Shanghai.

This involved an initial trip in January and will require another trip once the pavilion is complete in March. I was invited to the World Expo site during a visit to Shanghai for my Utzon Opera House book launch in August last year.

I took photos of the pavilion under construction and thought about documenting different stages until it's finished. These initial images led to commencement of the photographic study project.



Q: What are your impressions of the Expo site, in terms of development progress, size and architectural achievements?

A: The World Expo site is an amazing place to be and the biggest construction site I personally have ever seen.

Trucks driving down the roads delivering building materials to over 40 theme pavilions leaving dust clouds behind. More than 10,000 people - Chinese and foreigners - working every day to build the winning designs of every country.

Road congestion, newly poured concrete, steel structures, timber slats, piles of bricks, workers on wheelbarrows or welding, and temperatures around zero degrees at the time of my visit. Yet I saw most people smiling and especially the developers being excited to see their pavilions getting closer to final stages of completion.

I am intrigued by the unique curved shape and glass-steel tubes pushing in and out through the rusty skin of the Australia Pavilion that looks like soft velvet at night.

The golden "Sand Dunes" hosting the UAE Pavilion captivated me as well as the dynamic shapes of blue-tinted glass and concrete of the Israel Pavilion, married together and curved like a snail house.

The Romanian "Green Apple" looks like a super sized apple with a slice taken out and opening up the main part of the pavilion.

I could go on but there are just too many very intriguing and thoughtful designs from around the world.

Q: Having been commissioned to document the Australia Pavilion in pictures, are there other Expo architectures you may be studying for other countries?

A: Because of my background and history I am also very interested in the German and Danish pavilions. Due to the short life span of Expo pavilions, it will be valuable for every country to capture and document their national design to make it available for exhibitions in their home countries, for educational purposes, and to further promote their culture, tourism and business relations.



Q: What other China projects are you doing?

A: I also worked for Marshall Strabala who commissioned me to go to Nanjing to capture the new and about to open Nanjing Greenland Financial Center, a super tall skyscraper 450 meters high.

During my book launch tour last year, I met many respected and well-established architects based in China with international connections.

And I have the slight feeling that once I have a base in China many more opportunities will open up to document the amazing constructions throughout the country.

Q: What other plans do you have in Shanghai in the coming months?

A: I will return to Shanghai in March to take further photographs of the Australia Pavilion. I am currently also engaging with architectural practices and developers in Shanghai whose landscape is ever changing, stimulating, exciting and thrilling with new projects.

The buzz can almost become an addiction and it'll help me grow beyond myself, discovering new horizons and bringing out the very best in my photography.


Source:
www.shanghaidaily.com