With these greeters, big event can't miss
2010. 9 March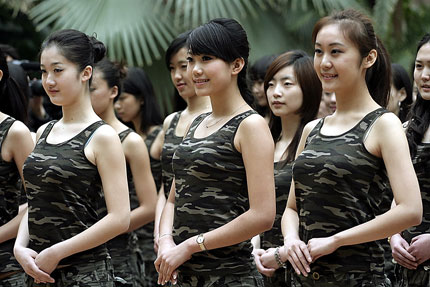 Nearly 300 young women from across China yesterday start etiquette training in Hangzhou, capital of Zhejiang Province, being groomed for the Shanghai 2010 World Expo. The training will last two months.

(shanghaidaily.com) Nearly 300 Miss Etiquettes began a two-month training course yesterday in Zhejiang Province, preparing them for the Shanghai 2010 World Expo.

After the Expo opens on May 1, the Miss Etiquettes will welcome visitors from around the world, said Sun Weimin, an official with the Bureau of Shanghai World Expo Coordination.
The training had three stages, military, etiquette and real-time, with the first and the third to be held in Hangzhou, capital of Zhejiang, and the second in Shanghai, Sun said.

"The purpose of the training is to prepare the Miss Etiquettes in knowledge, etiquette and ability so that they can properly and fully represent China," Sun said.

The women, most of them college students, were selected from more than 10,000 contestants in a nationwide competition that spanned eight months. More than 30 million people voted for them over the Internet.

The training will be broadcast on TV and at the end, the top 10 Miss Etiquettes will be named and assigned major Expo tasks.



Source:
www.shanghaidaily.com