Shanghai's new-look airport ahead of World Expo
2010. 14 March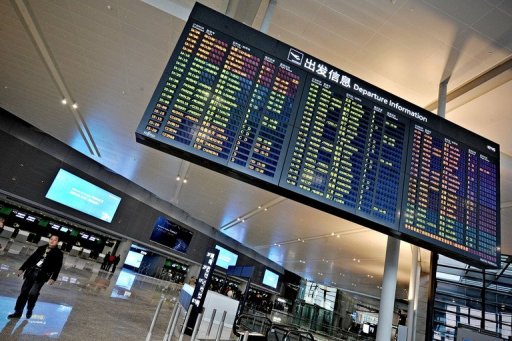 An information board is seen at the under-construction terminal 2 of Hongqiao airport in Shanghai

by Linda Shan
(AFP) Shanghai this week will unveil a brand-new airport terminal -- the latest mega-infrastructure project to be completed as the Chinese city prepares to welcome tens of millions of visitors to Expo 2010.
The city has spent 2.2 billion dollars on the makeover of Hongqiao airport, located just 35 minutes from the city centre, and made it part of a ultramodern travel hub linking metro, high-speed rail and a proposed maglev train line.
The new terminal, which opens on Tuesday, is four times as big as the old one, which was designed for 9.6 million passengers a year but handled more than 25 million in 2009. It will handle 90 percent of the flights out of Hongqiao.
"The old airport was bursting at the seams," said Shanghai Airport Authority (SAA) vice-president Li Derun. "The new terminal can effectively reduce delays and alleviate pressure on Pudong Airport during the Expo."
Pudong Airport is Shanghai's main airport for international flights while Hongqiao is used mainly by domestic airlines, and officials expect the vast majority of the 70-100 million visitors expected at Expo to come from China.
The new terminal and a second runway are part of a chain of projects that will see up to 400 billion yuan (58 billion dollars) in direct and indirect investment in the Expo, according to state media -- more than the 290 billion reportedly spent on the 2008 Beijing Olympics.
In contrast to British architect Norman Foster's dragon-like new Beijing Airport terminal built for the 2008 Summer Games, the designers of the Hongqiao facility said they did not set out to create an architectural landmark.
"We weren't looking for an extravagant or gigantic building. Instead we were looking for a user-friendly and customer-oriented design," said chief architect Guo Jianxiang, who also designed Pudong's seagull-like second terminal.
"Hongqiao in Chinese means rainbow bridge, so we incorporated the image of the bridge and rainbow's seven colours into the terminal," he told AFP.
Hongqiao is expected to handle 40 million passengers a year by 2015, with three-quarters of them using the new four-level terminal.
A direct metro line into the building also opens on Tuesday, linking the airport to the city by subway for the first time.
Shanghai is spending nearly 300 billion yuan to expand its subway system alone, adding hundreds of kilometres (miles) of new tracks for new and extended lines ahead of Expo, which runs for six months.
High-speed trains are due to start arriving at the airport from the eastern city of Nanjing on July 1, with trains from Beijing scheduled for next year.
The extension of Shanghai's 30-kilometre (20-mile) magnetic levitation, or maglev, line to link Hongqiao and Pudong airports may take longer after residents expressed concern about the environmental impact of the project.
"Expo is an opportunity for the city to upgrade its current transportation system to a world-class level, and to put the city on a global stage," said Zou Yi, chief analyst from Wisenova Investment Consultancy.
Some have questioned the need for added airport capacity, with Pudong operating at roughly half its capacity in 2009, welcoming 32 million passengers.
But the city is looking to the future, with two additional runways on the drawing board for Pudong, amid projections that it will eventually welcome 80 million passengers a year.
"Overcapacity is a concern in the short term, but given Shanghai's double-digit economic growth, the target is not too difficult to reach," said Li Lei, Beijing-based aviation analyst for Citic Securities.
Source:
www.afp.com