Maglev extension given green light
2010. 14 March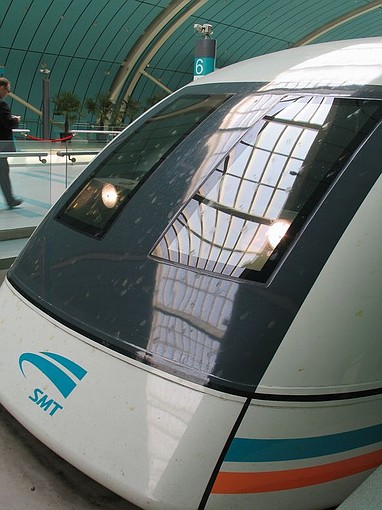 by Zha Minjie
(shanghaidaily.com) The extension plan for Shanghai's magnetic levitation train, the Maglev, is back on track.

The Ministry of Railways chief planner, Zheng Jian, said yesterday China had agreed to build a Maglev line between Shanghai and Hangzhou, capital city of Zhejiang Province.
The project is under careful consideration, Zheng said during a press conference on high-speed railway construction and development in China on the sidelines of the Third Session of the 11th National People's Congress in Beijing.

The line will start construction this year, Xinhua news agency reported.

It is also the only Maglev line in the medium and long-term plan, Zheng said.

First approved by the State Council four years ago in 2006, the extension was suspended in 2007 because residents along the line were worried that it would emit radiation and cause sickness.

An assessment released by environmental authorities, however, showed the extended project was safe.

Prior to the suspension, the Shanghai-Hangzhou Maglev line was expected to be in operation before the World Expo 2010 in Shanghai.

The top speed of the Maglev railway will be 450 kilometers per hour, but it will be limited to 200 kilometers per hour in the city's downtown areas.

Experts said it would take about half an hour to travel from Shanghai to Hangzhou, a trip which usually takes one and an half hours on the current service.

The new link will be 199.5 kilometers, about 24 kilometers longer than that included in the 2006 plan, said Xinhua. The line will also contain a downtown section of about 34 kilometers which is expected to connect the city's two international airports, Pudong and Hongqiao.

With a total cost of 22 billion yuan (US$3.22 billion), the new Maglev is expected to further beef up links between Shanghai and Hangzhou and boost cooperation among areas in the Yangtze River Delta.

It will set up two stops, Jiaxing and Hangzhou, within the section in Zhejiang Province.

Launched in 2003, Shanghai has the country's only Maglev route which is 31 kilometers long, between Metro Line 2's Longyang Road Station and Pudong airport. The single ticket price for the route is 50 yuan.


Source:
www.shanghaidaily.com