Kosher Chinese
2010. 17 March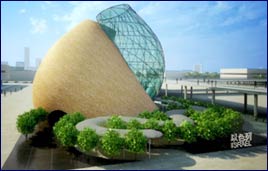 by Matthew Fishbane
(tabletmag.com) The beit knesset—the meeting place—is Haya's Mediterranean Cuisine, an Israeli restaurant in Shanghai's Zhuanqiao district. Forty-odd Shanghai-based businessmen and women, members of the the Israeli Chamber of Commerce in Shanghai, are smoking like Chinese and drinking espresso like natives of Tel Aviv. Chocolates, made by an Israeli living in Luxemburg, in town for China's first Salon du Chocolat, are said to be on their way. Designer glasses and shaved heads surround the tables.
Jackie Eldan, Israel's consul general in Shanghai, in a grey suit and looking tired with a five o'clock shadow, is standing in front of a rendering, projected on a wall, of Haim Dotan Architects' Israel Pavilion for Shanghai's World Expo 2010, less than 100 days from opening. He is telling the group, a bit mischievously and in English, that the modernist pavilion—it looks a bit like a high-backed snail followed by a slime trail—exceeds the strict height limitations by four meters, making it the second-tallest national building on the grounds.
"Our placement is good," Eldan says. "Right next to the Chinese Pavilion," which looks like a massive inverted pyramid, colored in an auspicious shade of red, the color of prosperity. "But we still look like a grain of rice that fell out of that big bowl."
Amid a pre-event torrent of child-friendly animations of China's upcoming world's fair —expected to draw 70 million visitors—and images of the Expo's fingerless blue mascot, called Haibao, Israel's seashell-shaped pavilion has garnered more than its share of attention. It appears on the cover of China Eastern Airlines's in-flight magazine, and it gets a mini-feature on Shanghai's looped mass-transit media system. Three Chinese couples have expressed a desire to get married in its orange groves, amid the irrigation displays in the "Whispering Garden." "The Chinese say," Rabbi Shalom D. Greenberg of the Shanghai Jewish Center told me later, " 'What is this little country making all this noise?' "
That noise has varied in volume since the establishment of a community of Persian Jews in the Northern Song Dynasty capital of Kaifeng sometime before the 10th century. Sephardic grandees from Baghdad and Bombay, including the extravagant millionaire Victor Sassoon, helped to build the modern city of Shanghai in the 1930s. The cities of Harbin and Tianjin took in Jewish refugees from Russia's pogroms and allowed them to prosper. Shanghai, thanks to its status as an open port and to the friendly machinations of a consular officer in Vienna affectionately known as Dr. Ho, made room for 30,000 Ashkenazim fleeing Nazi Europe leading up to and during World War II.
Based on these piecemeal historical ties to Jews, in the 18 years since diplomatic relations were established between Israel and China, the two countries have quietly built delicate but important programs of economic, military, and technological exchange that have lately attained a more prominent place in China's government-controlled media. The "flower of Sino-Israeli friendship is blooming," the state-backed Xinhua News Service now says. In Israel, a special council for the promotion of relations with China was established in 2002, with President Shimon Peres, whom Xinhua refers to as "the white-haired Israeli leader," serving as the honorary president. New groups like the Israel-Asia Center, dedicated to "promoting understanding and furthering cooperation between Israel, the Jewish world and Asia," are sponsoring programs and meetings. Bilateral trade between the countries now totals well over $4 billion, up from just $50 million when their first trade agreement was signed in 1992; 42 percent of the products coming out of Israel fall under the rubric of "telecommunications and high-tech equipment, machinery, and electrical equipment," as do 26 percent of those coming in from China.
What seems like a classic knowledge-for-manpower exchange, to the tune of $570 per capita on the Israeli side of the ledger, is a delicate game for both countries, with the transfer of Israeli military technologies to China having upset the United States more than once. In 2000, the U.S. blocked an Israeli sale of an early-warning radar system known as Phalcon on the grounds that it contained restricted technologies. In 2005, long-simmering tension on the issue resurfaced when Washington banned Israel from participating in the production of its F-35 fighters in retaliation for an Israeli agreement to upgrade a fleet of Chinese Harpy drones, which the U.S. considers a threat to its Pacific fleet. The U.S. fears finding its own technology, replicated or passed on by the Israelis, in the hands of China's military or Chinese-backed opponents, whether in the Strait of Taiwan or elsewhere.
The expanding economic and military relationship between China and Israel has been supported by soft-power efforts to burnish cultural exchange based on shared values of prosperity, education, diligence, and tribalism, set in national historical narratives that span four millennia. Shanghai's Hongkou district, where Austrian Jews set up a Little Vienna of Sachertorte, schnitzel, and cabaret, has a neatly refurbished Elders Activity Center, paid for by the State of Israel and the two dozen companies of the Chamber of Commerce, "in appreciation of the absorption of Jewish refugees by the people of Shanghai before and during WWII." The Shanghai Jewish Refugees Museum at the former Ohel Moshe Synagogue is the only renovated building in an area of feverish Chinese raze-and-build, and its memorial wing rivals Washington's U.S. Holocaust Memorial Museum in multimedia extravagance, even if it receives only a tiny trickle of mostly Western tourists. In 1998, Prime Minister Benjamin Netanyahu visited the site, writing in the guestbook, "We will never forget the help that the people of Shanghai gave to the Jews in their darkest hour." The Shanghai Expo seems like a good way to give back.
If the Beijing Olympics was China's global coming-out party, the Expo may be its debutante ball, with China cast as the steel-eyed, crisp-uniformed, square-jawed Prince Charming, and Israel (and every other foreign visitor) in high heels, looking to dance. "A good Expo is very important in what we call 'The Image of Israel,' our branding," says Eldan, the consul, flipping through slides describing the Hall of Light, which will put Kings David and Solomon alongside Albert Einstein. Israel's pavilion is designed to accommodate 2.5 million visitors, equivalent to a third of Israel's population. "If a small country takes a significant budget to the Expo, the Chinese will remember this," Eldan says.
For once, Israelis are faced with the task of having a positive image to uphold, rather than with a struggle to be taken as anything other than miserable, bellicose, and unsafe. "The Chinese know nothing about what a Jew is," a venture capitalist at the Chamber meeting told me. "They have no concept, so they have no prejudice." Instead, they hold a deep-seeded stereotype of the you tai ren, as Jews are sometimes called in China, that says, as another businessman put it, "Wow, you are smart. And you are rich!"
What those gathered at Haya's care most about this evening are rumors of a direct El-Al flight to Tel Aviv. These are the business pioneers, like Zvi Shalgo, who has lived in Shanghai for 14 years, who remembers when the Israeli presence in China was no more than the mega-shipper ZIM, a car-filter company, three Israeli families, and a tiny consulate. "Almost every guy who was here in the early days was a former officer in the army," he tells me. For the Israeli pioneers in the booming Chinese market, the Expo is as much a threat as it is a boon, allowing big fish into a huge pond. Eldan says that Expo will bring key Israeli government officials (currently unnamed, he says, for security reasons)—ministers with portfolios in tourism, clean tech, venture capital, plus lots of press, "to make a bang of it." But Shalgo, elected the Chamber's new board president during the meeting at Haya, complains that the only minister not coming is the minister of defense, Ehud Barak.
"You spend 30 million shekels to bring new business, and not a dime on the Jewish businesspeople who are here with guanxi"—connections—"who can actually do business," Shalgo says.
Across town, at the gated-community villa that houses the Shanghai Jewish Center, I meet Shalom Mizrahi, a 35-year-old Brooklynite, sitting near the bima with Israeli Ilan Eliezer, seven years his senior but with eight years less tenure in China. Mizrahi has been sourcing lingerie, working with factories scattered all over China, ever since he met a compatible Chinese partner at a trade show. He's regaling Eliezer, the greenhorn, with some old-hand lore, like the need for "super-clear" contracts.
"I once put in a box request that had, 'Put the UPC barcode here,' with an arrow to the spot," he says. "And instead of a UPC in the right place, they put the words, 'Put the UPC barcode here.' " Eliezer laughs. "They are not stupid," Mizrahi says. "They do as they are told."
Eliezer is making his first trip to China, 10 days in Shanghai and then a visit to suppliers in Yuyao, a city whose official web portal compares the business climate to a hot spring, where "a gushing vitality is fueled by burning enthusiasm for innovation and perfection." Eliezer sources lenses for small electronic devices. He dresses like Steve Jobs, but in faux-snakeskin shoes, and is just as lean as the Apple chief. He is amazed to have wrangled two months of credit from two different Chinese companies, nearly 30 percent of his costs, on his first try. "They mostly don't play games," Mizrahi tells him.
Greenberg, the 38-year-old rabbi who oversees the Jewish Center, is a pudgy but animated man with a red beard who first arrived in 1998, when 150 Jews were "smelling opportunity." He now presides over a congregation of more than 2,000, including a large group of French Hasidim, some of whom are sitting at the plastic-clothed tables upstairs, typing on laptops. Greenberg points out that in China, officially, his Chabad outpost is a beit knesset not a beit t'filah, a meeting place, not a place of prayer. "We gather the Jews," he says. "What they do is up to them."
With Israel in the news all the time, Greenberg says, the Chinese often ask him: "You are such a small nation. How do you do that?" He says they want to know because they like to learn from the success of others and then copy it. "We are admiring your ability to build a country from scratch," a Chinese government official once told the rabbi, seemingly oblivious to any ominous undertones. "For we are building a country from scratch, too."
At the Chamber of Commerce meeting, Eldan speculated that despite a directive to tear down the national pavilions when the Expo is over, the Seashell might outlast the Expo to become Shanghai's mini-Eiffel Tower—a permanent marker of Israel's presence in the skyline of China's mainland business center. If all goes according to plan, on May 6, after Israel's Independence Day, white-haired Shimon Peres will inaugurate the pavilion. A meeting with President Hu Jintao will coincide with the visit. "If Peres asks Hu personally for the pavilion to stay," Eldan says, "it might."
Matthew Fishbane is a New York-based freelance writer.
Source:
www.tabletmag.com