Shanghai's new airport terminal starts operation
2010. 16 March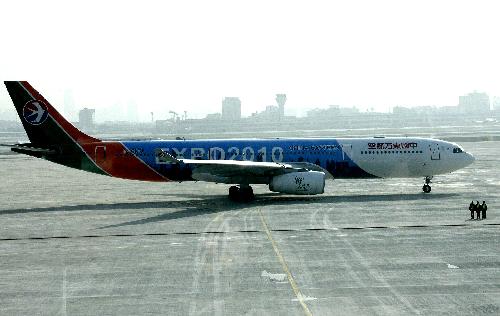 Photo taken on March 16, 2010 shows a plane runs in the Hongqiao Airport of Shanghai, east China. The No.2 Terminal of the airport came into use Tuesday, and more than 90 percent of all flights to Hongqiao Airport will be transferred to the 360,000 square meter terminal. (Xinhua/Chen Fei)

(news.xinhuanet.com) A new airport terminal in Shanghai started operation Tuesday ahead of the opening of the Shanghai World Expo amid the city's efforts to build a "world-class" traffic hub.
The 360,000 square meter terminal with a new runway has 45 plane parking bays and an annual transport capacity of 40 million people, said Shen Xiaosu, deputy director of Shanghai's Urban, Rural Development and Traffic Committee.
As of March 16, a total of 11 domestic carriers including Shanghai-based China Eastern Airlines, Air China and China Southern Airlines had moved their operations to the new terminal. The old terminal will be primarily used by some budget airlines and chartered flights to Japan and the Republic of Korea, according to the airport's website.
Together with the opening of the new terminal on Tuesday, the extension of Shanghai's subway line 2 linking with the new terminal also started operation, the airport's website said.
The hub is a key project supporting the Shanghai Expo and would play an important role in promoting the economic development of Shanghai, the Yangtze River Delta and the whole country, Shen said. Source: news.xinhuanet.com