News Frontier officers armed with guns for Expo
2010. 18 March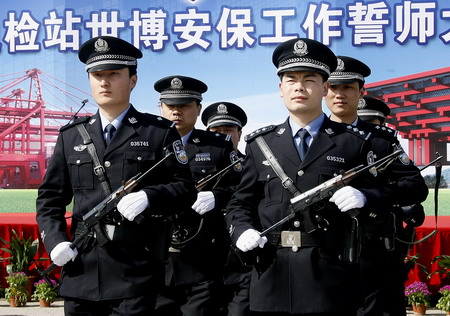 Armed policemen start armed patrols at Shanghai port, March 17, 2010.[Photo/Xinhua]

by Zuo Likun
(chinadaily.com.cn) Frontier police officers at a Shanghai seaport, one of the country's busiest, were equipped with guns on Thursday as the eastern municipality beefs up border security for the upcoming World Expo, the China News Agency reported.
Armed officers patrolling at Shanghai's Wusong Station of Exit and Entry Frontier Inspection was unheard of since an agency shake-up in 1998. The guns will only be used during the World Expo, which lasts from May 1 to October 31.
Seven other frontier stations in the municipality will join the armed patrolling forces later.
Source:
www.chinadaily.com.cn