BlackBerry to buzz Expo news
2010. 18 March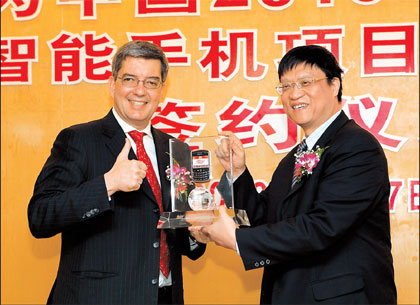 RIM China's President Gregory Shea (left) and Chen Xianjin, Bureau of Shanghai World Expo Coordination vice president, hold a BlackBerry yesterday. RIM is the Expo's official smart-phone provider.

by Jia Feishang
(shanghaidaily.com) Blackberry cell phones users worldwide will be able to read World Expo news provided by Shanghai Daily.

The mobile telecom service provider signed a partnership contract with the Expo organizer yesterday.
By downloading a free application, BlackBerry users will see Shanghai Daily news stories as well as tips for Expo visitors provided by the newspaper: transportation, hotels, restaurants, prime times for queuing, and background on pavilions.

Whenever the Shanghai Daily's Website is updated, users will get the latest information at the same time.

The service will be available from the middle of next month until the Expo ends on October 31.

According to the contract between Research In Motion, developer of the BlackBerry, and the Bureau of Shanghai World Expo Coordination, Expo staff will use BlackBerry cell phones at work when the Expo opens on May 1. They'll have a tailor-made system enabling them to handle e-mails, get updated information and keep in touch with co-workers.

"Once a person updates information, everyone sharing the same network will see," said Li Tong, director of RIM China market.


Source:
www.shanghaidaily.com