The textures of Shanghai's Expo
2010. 21 March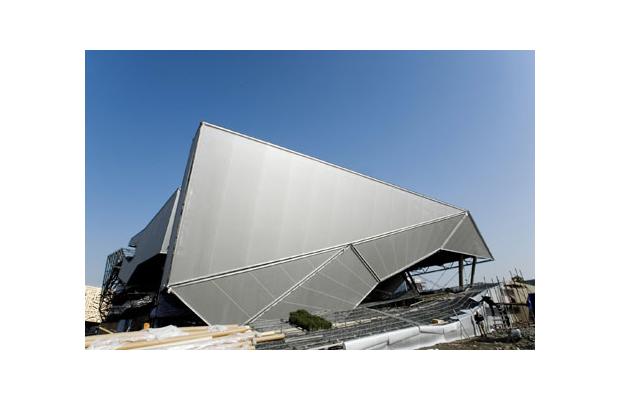 The German pavilion is conceived as a three-dimensional walk-through sculpture. It presents ideas on balance in modern life. Photograph by: AFP, AFP/Getty Images

by Maria Cook
(ottawacitizen.com) World fairs are a good laboratory for experimenting with architecture and the upcoming expo in China is no exception. Thanks to computer-aided design, pavilions that resemble giant dandelions and baskets are fabulous buildings that 'look like they can't be built.' Maria Cook takes a look at what visitors can expect when the doors to the greatest show on Earth open in May.
During the Beijing 2008 Olympics, China set out to awe the world. At the 2010 world's fair, opening May 1 in Shanghai, the world has a chance to impress China.
The British attitude is reported as: "Let's dazzle our Chinese friends and show them that, while we can't match the Bird's Nest, we can do a Porcupine."
Nearly 200 countries are participating in the six-month event, which is expected to draw 70 million visitors. The theme is "Better City, Better Life."
Expo 2010 promises to be remarkable for its architecture.
"World fairs are a good laboratory for experimenting with architecture," says Urso Chappell, a California world-fair historian who runs the online expomuseum.com.
"What's really noteworthy this year is how computer-aided design can allow for great flexibility as far as shapes go," he says.
"It's all bubbles and undulating shapes. You're seeing buildings that look like they can't be built."
Britain is constructing a pavilion which looks like a giant dandelion about to loose its seeds to the wind. At the end of each 7.5 metre transparent stem is the image of a seed from the Royal Botanical Garden's Millennium Seed Bank in London.
At night, LED lighting will make it glow like an iridescent sea urchin.
Canada has a large pavilion in the shape of a letter C -- for Canada, city and culture -- produced by Cirque du soleil and the federal government.
According to Chappell it is "nice."
Some 5.5 million people are expected to visit the Canadian pavilion -- 30,000 a day. This type of exposure is what is leading most participating countries to strive to be memorable.
"Everybody is dying to be in the Chinese market and to show they are business partners," says California architect Gordon Linden, co-author of The Expo Book: The Past, Present and Future of Organizing International Expositions.
"It's nation-branding," he says. "Countries want to promote themselves. A good impression can deliver a lot of dividends in the nature of goodwill and diplomacy, tourism and investment."
Denmark is bringing the sculpture of The Little Mermaid from Copenhagen Harbour along with a million litres of harbour water for people to cool their heels in. The water is newly clean as a result of Denmark's leadership in sustainable technology.
France has a seductive formula; in a country fond of special wedding venues, its pavilion is available for weddings in classical French gardens.
The theme at this expo is sustainability. Although temporary construction is not a good symbol for conservation, a surprising number of countries are showing green initiatives.
The United Arab Emirates pavilion, by noted British architect Norman Foster, is designed to disassemble for reuse as a permanent building elsewhere.
China's own pavilion is vast and permanent and tries to show sustainable awareness in the context of traditional architectural styling.
The American offering demonstrates the politics of such events. The project started with the Bush administration, which had little interest. With Obama in power, they are playing catch-up.
Chappell describes it as looking "like a cineplex," but adds: "I have no doubt the inside will be amazing."
"This is the biggest show on earth," says Linden.
"I think the Chinese are going to just bust the doors off this thing. They've never seen anything like an expo."