Society Pride and prejudice at play in Shanghai
2010. 22 March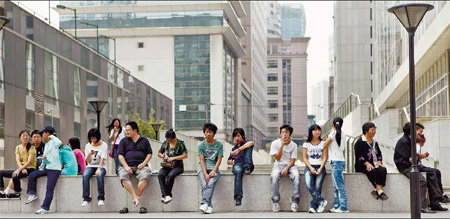 Will Shanghai Expo change the city's traditionally surly attitude towards outsiders? [Gao Erqiang / China Daily]

by Xu Xiaomin
(chinadaily.com.cn) Mending ties with waidiren is a priority for the much-maligned Shanghainese as the city sets out to prove it can be a gracious Expo host

Expo 2010 Shanghai is a perfect opportunity for the city's residents to prove they don't have a chip on their collective shoulder. It is the right time to mend ties, with immigrants from other provinces who often complain of discrimination by the Shanghainese.

About 50 million domestic tourists are expected to descend on Shanghai during the six-month Expo, giving locals an opportunity to undo the decades of animosity that have been built up between them and waidiren (outsiders), and prove they can be gracious hosts.

For Chen Gang, who moved to the city from Yunnan province in southwest China, such an attitude overhaul is long overdue. Chen left Shanghai for Beijing after several years of being made to feel like a second-class citizen in China's bustling financial hub.


"My Shanghai colleagues would often speak to each other in their local dialect and exclude me," he said. "Eventually I felt like I had no choice but to move."
Xiao Song, who works in public relations at a luxury hotel in the city, said she got a terrible first impression after arriving from Hunan province almost a decade ago.
"I went to buy a toothbrush and the store owner pointed at the cheapest brush and whispered under her breath that I couldn't afford a better one," she said. "From that point on I realized that if you want to settle here, you'd better learn the local dialect. It's a basic weapon." Within one year she could speak it fluently and with almost no accent.
Team effort
Stereotyped as huffy and inhospitable, the Shanghainese are downplaying these complaints on the one hand, and making subtle overtures on the other. Many shops have already started to ban the use of Shanghai dialect among their staff so as not to alienate customers.
Meanwhile, local communities are organizing various activities to make their residents better hosts for Expo. Residents of Putuo district's Ganquan community have signed an agreement to use bicycles instead of automobiles, while other groups are adopting plants to develop more greenbelts in the city.
Another community in Pudong district, close to the Expo Garden, has organized a team to persuade residents to dress in a more sophisticated manner and ditch their Hello Kitty pajamas, which are often worn by middle-aged people in public. In another development, some 500 Expo Families have been approved to provide home-stays and teach guests about local cuisine and lifestyles.
Retiree Sheng Chongming, who used to work in a state-owned enterprise, said her community has been told to put on a more friendly face for Expo. But she described the allegations of discrimination as "rubbish".
"They asked us older citizens to practice Mandarin with the aim of receiving visitors from other provinces. They also suggested we study English," she said. "Our community billboard urges people to keep the environment neat and tidy, not to hang clothes out on the balcony and behave politely in public.
"If we Shanghainese are inhospitable, why would we bother going to these lengths? I think it's rather the people from outside who have it in for us," she said.
Television programs that routinely pigeonhole Shanghai's men as selfish and effeminate and its women as shrewd and picky serve to reinforce Sheng's claim.
As it turns out, local celebrities don't get off much lighter. Hurdles champion Liu Xiang is a case in point. When Liu won the Olympic track and field gold medal at Athens in 2004, the Chinese public praised him as a hero "not resembling a Shanghai man in any shape or fashion".
However this changed four years later when Liu limped out of the National Stadium during the Beijing Olympics prior to his race due to a nagging injury. He was subsequently mocked as "a coward, a typical Shanghai man".
Things came to a head last December when two presenters on Shanghai Radio's daily Music Breakfast show began bantering in Shanghai dialect during a live broadcast, prompting one listener to text them asking them "not to use Shanghai dialect anymore".
"I hate you Shanghainese," added the sender with a lack of respect that infuriated presenter Xiao Jun.
"Please roll yourself into a ball and slowly roll out of the city that you hate," he curtly replied.
With both sides blaming each other for the animosity, it is often difficult to untangle the truth. However a survey conducted last year by Chen Xinkang, a professor at Shanghai University of Finance and Economics, suggests that discrimination against people from other parts of China is becoming a major problem in Shanghai.
His survey also found that the "quality" of the people of Shanghai, meaning the median level of their education, etiquette and professional lives, is surprisingly low.
Wu Jianming, honorary president of the Bureau of International Expositions, said at the Shanghai World Expo China Forum late last year that Expo 2010 would help improve the situation.
"We can see the positive effect the Beijing Olympics had on the quality of its residents and this is something that fills me with great pride," he said. "Shanghai Expo is much longer than the Olympics so the effect here should be the same if not better."
Not according to sociologist Gu Jun, however.
"Shanghai residents have their own characteristics and lifestyle, and these are things that have been shaped over a long period of time. They are not the same as the people of Beijing, who were willing to change everything for the (Olympic) Games," he said.
All of which is bad news for the city's immigrants, who spend their days navigating through the subcutaneous tension that can be felt in Shanghai in the form of its us-and-them mentality.
Becoming locals
Often ignorant of the local dialect, their main hope of gaining acceptance is attaining a highly prized Shanghai hukou, or registration card. This grants them greater civil liberties, more legal entitlements and - some would say, most importantly - the respect of the Shanghainese.
Stand-up comedian Zhou Libo said the people of his hometown deserve to feel proud for all that the city has contributed to the motherland over the last century, financial and otherwise. He said the negative press about the Shanghainese mostly boils down to jealousy.
"One statistic can prove this: all those areas that criticize Shanghai only ever accounted for a fraction of its gross domestic product," he was quoted as saying by the Guangzhou-based Nanfan Zhoumo (South China Weekend), a weekly paper.
Shanghai contributed about one-sixth of China's state revenue during half a century after the establishment of modern China in 1949.
While that may well be true, other cities and provinces have their fair share of things to boast about, said Liu Guangxuan from Shandong province
"Shanghai doesn't have as many high-level officials as Beijing and its people are not as rich as their counterparts in Guangdong or the entrepreneurs in Zhejiang province," he said. "So why should we envy them? That's ridiculous."
Sociologist Gu believes that Shanghainese do not judge people based on where they come from but on how good they are at their job, how well they dress and how well bred they are.
"If you are more capable than me, then fine, I highly respect you. If not, I just turn up my nose at you without any sort of pretense," he said.
"This is an ultra-competitive city. It's the way things are in Shanghai. Things may change, but we cannot realistically expect them to change overnight."
Source:
www.chinadaily.com.cn