German Pavilion at Shanghai Expo to show particular expertise
2010. 23 March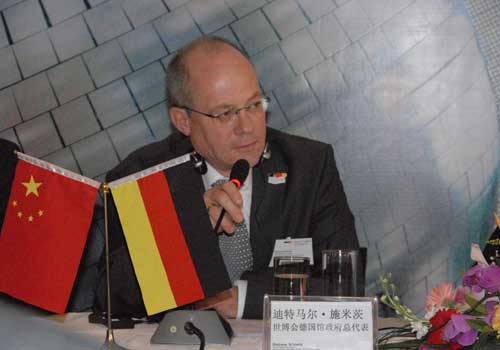 Dietmar Schmitz, Commissioner General of the German Pavilion, speaks at a press conference briefing on Germany's participation in the Shanghai Expo 2010, in Beijing, March 23, 2010. (Xinhuanet/Wang Guanqun)

by Jiang Yuxia
(news.xinhuanet.com) The World Expo plays in the same league as the Olympic Games and the World Cup, and it gives Germany a great opportunity to present its particular expertise, said the chief organizer of the German Pavilion of the Shanghai Expo 2010.
    "The world exhibition entertains millions. But beyond entertainment it also gives each and every exhibitor a great opportunity to present its country's particular expertise," said Dietmar Schmitz, Commissioner General of the pavilion, during a press conference briefing on Germany's participation in the Expo.
    "For example, the strengths of the Federal Republic of Germany as an economic nation, as a leader in innovation and last but not least as an attractive place to visit."
    Covering a floor space of 6,000 sq m, the German Pavilion is the biggest that Germany has ever had at an Expo and is estimated to receive 45,000 visitors a day.
    The theme of the German Pavilion is "Balancity," a city in balance, with ideas and solutions made in Germany and created in Germany that can have a positive impact on this development.
    The pavilion consists of four large exhibition structures. When viewed separately, each exhibition structure seems out of balance. However, the four structures form an integrated whole and achieve an equilibrium of their own. This exactly reflects the idea of balance, explained Schmitz.
    "A city is an attractive place to live in if it has struck a balance between renewal and conservation, innovation and tradition, city and nature, community and individual, work and leisure," said creative director Peter Redlin from Milla & Partner.
    He added that visitors can experience what this means in full on an adventure-filled tour through typical urban spaces.
    The first highlight for Germany will be German Nations Day on 19 May, which Germany's President Horst Kohler is expected to attend. It will also include a range of German culture, from the Young Euro Classics to the pop duo "2raumwohnung" right up to a presentation of Berlin's "Hip Hop Headquarter."
    The Expo, which will run from May 1 until the end of October 2010, is expected to attract around 70 million visitors to its 350 pavilions.
    With the theme of "Better City, Better Life," the Shanghai Expo will address the urban challenges facing us in the 21st century.
Source:
news.xinhuanet.com