Magic box prepares to amaze visitors
2010. 25 March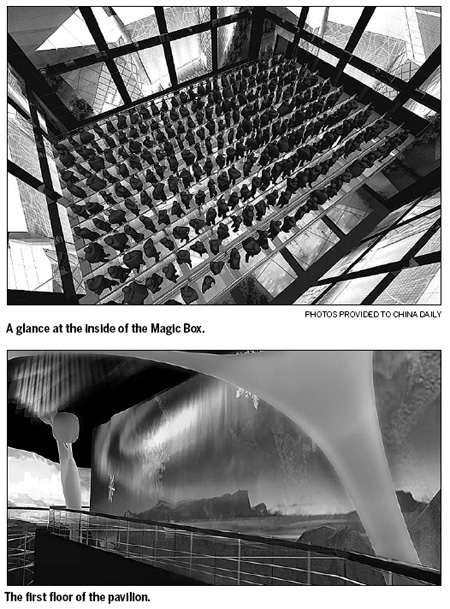 by Xu Xiao
(chinadaily.com.cn) The State Grid Corporation of China unveiled the final plan of its pavilion at the Shanghai World Expo on March 23.

The pavilion covers 4,000 square meters in the Puxi section of the Expo site, according to Jiang Xiaoyun, deputy director of the pavilion.

The pavilion is a metallic square with a crystal cube embedded inside, called the Magic Box. The box is in the main exhibition area and a highlight of the exhibition.
Designer, Uwe R. Brckner, of the ATB Co, Germany, has won a number of awards in art design worldwide.
The Magic Box is suspended 6 m above the ground. It is 13.9 m high, 14.9 m wide and can hold 250 visitors at a time.
Inside the Magic Box, visitors will be surrounded by state-of-the-art technology.
The box will use visual and sound effects to make people feel as if they were part of the energy in the whole universe.
It will be an immersion experience and is designed to help guests understand the process of how the State Grid transforms resources into energy that humans can use in their everyday lives, according to the designer.
Other parts of the pavilion are also mind-stretching, including displays which show in detail how the substation works.
The major construction of the pavilion has been completed and it is now being tested.
It will begin operation on experimental basis next week.
Green design
"The pavilion is environmentally friendly and reflects the desire to pursue a green life," Uwe R. Brckner said.
It is a place where people's dreams to go back to nature come true, the designer said.
The Magic Box uses solar and wind power to sustain its operation.
A light absorbing mirror called Sun Flower is installed in the pavilion to direct sun into the pavilion to keep it warm.
There is also a small-sized wind power generator to supplement the power supply in the pavilion.
An S-shaped corridor that runs through the pavilion helps visitors relax with its soft curves, the designer said.
On the first floor, visitors can learn about clean energies.
An electric tunnel takes them to the second floor, where they can learn about the future of the grid.
In the core magic box, visitors experience how the grid works and finally, there are underground displays, which explain how a green grid can contribute to a good life, he noted.
As the electricity supplier of the Expo, the State Grid supports 85 constructions with electricity.
Source:
www.chinadaily.com.cn