Sales pitch in Shanghai
2010. 27 March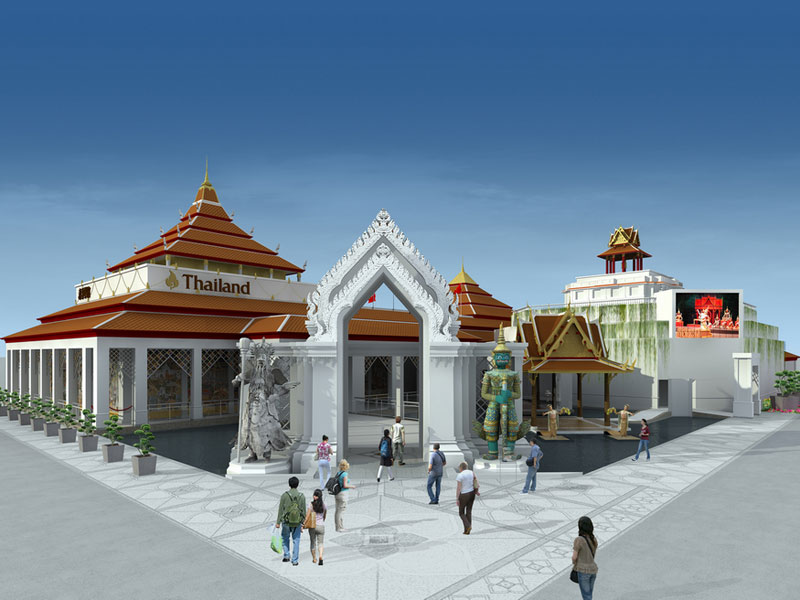 The Thai pavilion at the Shanghai site cost 950million baht, the most the country has ever spent for a World Expo. Its theme will be "Thainess: Sustainable Ways of Life".

by Phusadee Arunmas
(bangkokpost.com) Thai exporters will be encouraged to use the upcoming World Expo in Shanghai as a showcase that could help lift shipments to China by 20% this year, according to Commerce Minister Porntiva Nakasai.
The country will place a particular focus on four sectors: food and beverages; design, fashion and lifestyle; decoration and furniture; and services.
The ministry will also promote matchmaking between Thai and Chinese businesses on the sidelines of the event to raise values of trade and investment.
Expo 2010 will run from May 1 to Oct 31, with at least 75 million visitors expected.
Mrs Porntiva said the event should help raise the value of Thai exports by 10-20% from US$16.12 billion in 2009.
Although Thailand has been participating in international exhibitions since 1862, it did not become a member of the Bureau of International Expositions (BIE), which licenses the international events, until 1993.
A World Expo today is regarded as the third most significant global event in terms of its economic and cultural impact, after the Olympic Games and the World Cup.
Work on the official Thailand Pavilion, under the supervision of the Ministry of Social Development and Human Security, is almost finished.
The pavilion will cover 3,117 square metres under the theme "Thainess: Sustainable Ways of Life". There will be a friendship clock on the roof of the pavilion, symbolising the friendly ties between China and Thailand since diplomatic relationships were established 35 years ago.
The site will feature a a 360-degree "hydro-screen" and technologies that will let robots talk with visitors. The interior decoration uses red and gold as the main colour motif.
Visitors will be welcomed at the entrance by "Tai", a cheerful child-giant mascot.
The budget for the pavilion is 950 million baht, the most ever spent by Thailand on an Expo presence.
Source:
www.bangkokpost.com