Australia unveils its pavilion theme: ImagiNation
2009. 1 June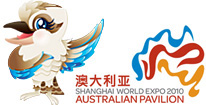 (australianpavilion.com) To celebrate Children's Day the Australian pavilion has today unveiled the details of its overarching pavilion theme - ImagiNation - and has called on Chinese families to embrace and nurture their children's imagination in addressing the urban challenges of the 21st century.

"The power of our individual and collective ImagiNation holds the key to achieving a sustainable future for the world's cities", said Commissioner-General for the Australian pavilion, Peter Tesch.
Challenging many of its international stereotypes, the Australian pavilion will reveal the reality of Australia: dynamic, modern cities enjoying clean air and water and a strong sense of environmental amenity, inhabited by imaginative, clever, engaging and accomplished Australians.
"Our three act pavilion - Journey, Discover, Enjoy - will showcase the innovative way Australians have responded to the urban challenges brought about by population pressures whilst still conserving the unique aspects of Australia's clean and green environment", he said.
"Australian companies are leading the way in sustainable development practices and our partner in pavilion construction, Bovis Lend Lease, is but one example of an Australian company already contributing to China's urban landscape," he said.
Headquartered in Shanghai, Bovis Lend Lease has been operating in China for more than fifteen years and in 2008 was awarded the "The Leadership in Energy and Environmental Design (LEED) Gold for New Construction" for Nokia's Beijing headquarters
"Thriving in urban environments, the Australian pavilion's mascot, the kookaburra, exemplifies our success in developing sustainable cities that balance the needs of the built and natural environments," said Mr Tesch.
"Of course we also encourage all children today to exercise their imagination by entering our Name the Mascot competition to win the chance to visit Australia and enjoy first hand Australia's exciting city life and beautiful natural environment," he said.
"Australia is a land of opportunity. The Australian pavilion will bring to life the diversity of that opportunity and the power of individuals to imagine their future - and then achieve their vision," said Mr Tesch.
Showcasing Australia's rich culture and quality of life, every visitor will take away a different and unique experience reflecting that person's individual dreams and aspirations.
 "The Australian pavilion looks forward to inspiring the imagination of all our visitors," he said.
Source:
www.australianpavilion.com