Expo helicopter flight runs a medical practice
2010. 31 March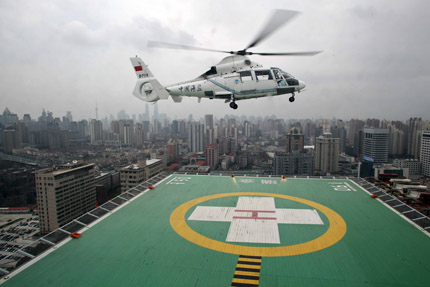 by Cai Wenjun
(shanghaidaily.com) A helicopter made a trial flight yesterday for emergency medical rescues of critically sick patients from the Shanghai World Expo site to designated hospitals.

A copter dispatched by the Civil Aviation Administration Bureau of East China conducted the trial flight to Ruijin Hospital, one of the seven designated hospitals for the Expo.
With data collected through this drill, a medical helicopter under the Shanghai Police Aviation Force will make another trial flight from the Expo site to Ruijin Hospital next month.

Shanghai Health Bureau said yesterday that it has put together a four-level emergency medical network focusing on the Expo site, key areas around the site, the urban area and regions nearby.

The bureau said it will try its best to make at least 85 percent of ambulances arrive at the scene after people call "120" during the Expo.

The bureau has set up a three-way transport system - road, waterway and air - for patients during the Expo.

"Helicopters are used for important visitors and critically sick patients, who may suffer heart attack or a big hemorrhage," said Lu Yiming, Ruijin's emergency department director. "Usually the first 10 minutes after the accident or disease outbreak is the golden period for effective treatment."


Source:
www.shanghaidaily.com