Shanghai is ready to play host the world
2010. 1 April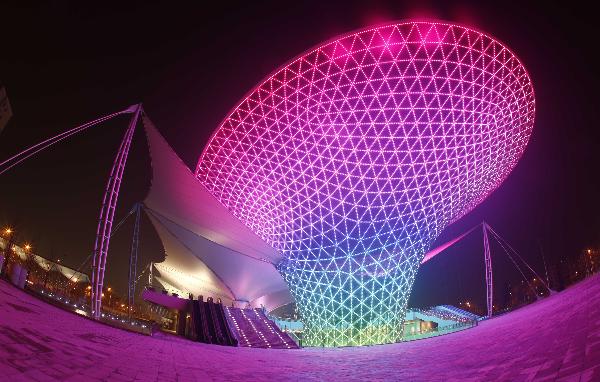 The lighting system of the World Expo axis is tested in Shanghai, east China, March 31, 2010. The Shanghai World Expo will start trial operation on April 20 with the participation of about 70 percent of the pavilions, the organizer said on March 31 Tuesday. (Xinhua Photo)

(news.xinhuanet.com) With a month to go before the World Expo 2010, Shanghai is looking to seize the limelight with promises of glitz and glamour for this year's World Exposition.
As the 2010 World Expo approaches, Shanghai is completing its makeover to jump-start the city's tourism push.
During the past weekend, crowds of locals and tourists crowded the city's best known riverside promenade, the historic Bund, to witness its reopening and rebirth in time for the Expo.
Connie Cheng, Vice Director Shanghai Tourism Administration, said, "Barring the effects of last year's financial crisis, we feel that there will be a turnaround for the market in this new year. On the first day of this year, our national and municipal tourism officials announced to the world that 2010 is our World Expo tourism year. With the World Expo tourism year and its subsequent promotional activities, we are actively working on activities to attract 70 million visitors and we remain positive about reaching this target."
In order to impress an expected 70 million visitors, Shanghai's government is already splashing about more than 700 million U.S. dollars on renovating the Bund riverfront, and a whopping 45 billion U.S. dollars to upgrade transport and infrastructure.
A convoy of "Expo caravans" set off from Shanghai this month to tour neighboring regions and promote the World Expo to ordinary Chinese.
Connie Cheng said, "Our caravans will travel through Anhui, Jiangsu and Hebei provinces and finish in Beijing. During the trip, we will promote the Expo to the public, to our tourism professionals and to the media. We will also have a promotional day for the public and events to market the Expo."
China is the first developing nation to host the World Expo and officials hope the event, held from May 1st to October 31st, will improve Shanghai's position as a global city.
(Source: CCTV.com)
Source:
news.xinhuanet.com