Shanghai police pimp their rides for Expo 2010
2010. 1 April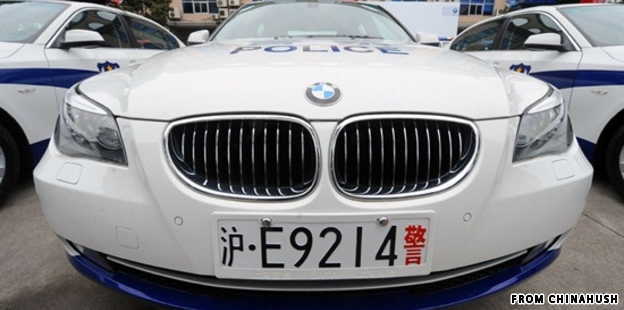 Nothing says 'don't even think about it' like a BMW 5 series.

(cnngo.com) If we were to compile a list of signs that China has weathered the financial crisis well, pimping out their police force with BMW 5 series would be close to the top of it.
ChinaHush reports that the Shanghai Municipal Public Security Bureau, Traffic Police Department was "equipped with BMW 5 series police cars for the World Expo." With 22 cars in all, these dream rides, a major upgrade from the VW Santanas that for years have served the force reliably, if a little averagely, will mainly service the 2010 World Expo. Does that mean non-Expo police will get downgraded to bicycles to balance the costs?
Netizens are far from amused at the move, seeing it more as a way to placate local officials and impress tourists than help locals. One poster, tangda, writes, "Nice display of face … wonder what they really are going to do to improve the real life of common people?"
BMWs aren't the only Expo-related gifts being given to Shanghai's police this April. Starting today April 1, Shanghai Daily reports that, "all local immigration police officers will carry guns while patrolling and guarding local ports and related facilities as border-security efforts continue to step up for World Expo." Although not a surprise to those used to armed police in their cities, this is a shift from Shanghai's normally un-gunned forces. Guess the People's Armed Police and tejing (特警) won't feel that special any more. 
Source:
www.cnngo.com