Expo proves boon for city residents
2010. 1 April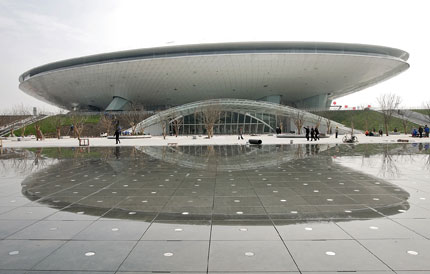 Construction and outfitting finished yesterday on the Shanghai World Expo's so-called "permanent seashell structure," officially known as the Culture Center, marking the completion of all five main buildings for the event. The others are the China Pavilion, Theme Pavilions, Expo Center and Expo Boulevard. The Culture Center will have an average of two sessions of performances every day during the 184-day Expo which opens on May 1. The center has two floors underground and four above, and comes equipped with a public ice-skating rink, a six-screen cineplex and a basketball court built to NBA standards.

by Zhang Fengming
(shanghaidaily.com) Shanghai is about to embrace the World Expo, a six-month celebration of domestic and global innovation - and the city's residents are already big winners.

City Party Secretary Yu Zhengsheng has unveiled a package that includes two extra public holidays and free Expo tickets and transport cards for every permanent Shanghai family.

Construction on all pavilions in the Expo zone would be completed before the event started on May 1, Yu said.

He added that a small number of agreed participants may not attend, which was the norm in all Expos.

The State Council, China's Cabinet, has allowed Shanghai two more public holidays, on April 30 and May 4, in part to ease the traffic burden when the Expo starts.

About 7 million free tickets, one for each permanent resident household in Shanghai, would be offered to thank people for supporting the event, Yu said.

Each household will receive, gratis, a 200-yuan (US$29.30) public transport card commemorating the event as another bonus.

"Shanghai residents sacrificed a lot in preparations for the Expo," Yu said. "We want to thank them for their understanding and support."

To cope with huge Expo crowds, the city has invested heavily in traffic infrastructure to dig new Metro lines and tunnels, expand roads and renovate key facilities.

Since 2005, Shanghai has built eight new Metro lines and extended existing lines. By the end of April, Shanghai's Metro and light rail length will increase to 420 kilometers, more than four times that of 2005.

Yu said locals have had to suffer traffic congestion, noise and heavy dust from construction.

A safe and orderly Expo was of foremost concern, he said.

Yu said many measures had been undertaken to avoid traffic jams, including a planned cap on daily visitors to the Expo site. The final limit has not been set yet, but a 700,000 ceiling has been suggested.

Yu said Expo visitors should be prepared for long queues as some pavilions would be more popular than others.

"We'll provide means to make the waiting more bearable, for example, more attractions along waiting areas," he said.

Yu also said the number of domestic VIPs offered a fast track to enter pavilions would be cut to the lowest possible level.

"Shanghai Party leaders and government officials should not use VIP entries as a fast track except when accompanying important guests," he said. "They must buy tickets to enter the Expo site for private visits and I will lead by example."

He also said there were still shabby areas in Shanghai and the Lujiazui area, the pristine financial zone, did not fully represent the city.

"The real Shanghai is not the Expo site ... the real Shanghai is the full city," he said.

"In some old districts, many local residents are still living in poor conditions, which deserve all our efforts to improve.

"We're not entering the Expo with a perfect Shanghai.

"The real Shanghai is a city with difficulties and a work in progress."


Source:
www.shanghaidaily.com