Shanghai Expo Culture Center Completed
2010. 1 April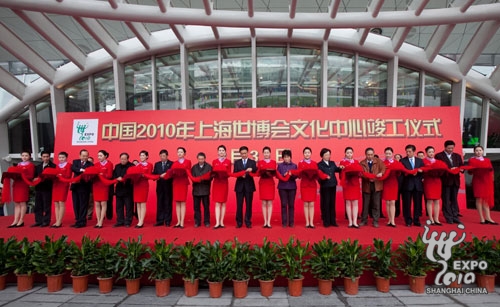 Officials cut the ribbon to celebrate completion of the Shanghai Expo's Culture Center on Wednesday, March 31, 2010. [Photo: expo2010.cn]

by Yang Yang
(english.cri.cn) The Culture Centre of the Shanghai Expo, known as the "permanent seashell structure", finished construction and outfitting Wednesday, marking the completion of all five main buildings for the event, according to the Expo's official website.
The Culture Centre has two floors underground and four above, and comes equipped with a public ice-skating rink, a six-screen cineplex and a basketball court built to NBA standards.
The seating configuration of the main auditorium, which has a centre stage, can be changed to accommodate 5,000, 8,000, 10,000, 12,000 or 18,000 seats, depending on the requirements of the performance.
The central area can also be turned into a gala or concert venue, a basketball court built to NBA standards or even an ice hockey court.
The centre will also house a cinema, a public ice skating rink, a bowling alley, a live music club, a sightseeing corridor, children's playground, car exhibition hall, 20,000 square meters of mixed use retail space with luxury suites and many VIP clubs.
Two performances will be staged daily through the fair, with large concerts during the weekend. After the fair, it will house 250 performances annually and incorporate sports, fashion, tourism, art training, shopping and leisure events.
The other main buildings of the Shanghai Expo are the China Pavilion, Theme Pavilions, Expo Centre and Expo Boulevard.
Source:
english.cri.cn