Shanghai awaits tourism boom for world expo
2010. 2 April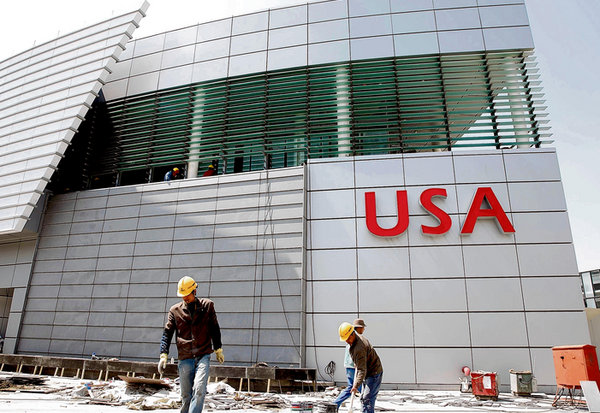 A construction crew works in front of the US pavilion at the World Expo 2010 site in Shanghai, China, which is due to open on May 1st. Photograph: Qilai Shen/Bloomberg

by Clifford Coonan
(irishtimes.com) With one month to go before the World Expo 2010, China's financial capital Shanghai is gearing up for a tourism boom as it seeks to promote China's most glamorous city to the world with the event known as the "Economic Olympics".
The massive building site that will host the expo is looking increasingly impressive and the event is sure to be an eye-opener. As the Beijing Olympics taught us, China does big-scale public events better than any other country in the world, and the expo will be very much in that mould.
The city's historic Bund promenade has reopened after extensive – and at €520 million, expensive – renovations.
The Bund showcase was one of the many events to mark the one-month countdown to the expo, which will be held from May 1st to October 31st.
"We are still actively working on activities to attract 70 million visitors and we remain positive on reaching this target," Connie Cheng, deputy head of Shanghai's tourism administration told local media.
Everywhere you go in Shanghai, awnings and scaffolding are coming down to reveal a newly refurbished city. Shanghai has always been China's most elegant city. But the government has spent €33 billion on upgrading the infrastructure and public transport in the city of 18 million people ahead of the expo.
Much of the city refit is similar to what went on in Beijing in the run-up to the Olympics. Orders handed down from the Shanghai municipal authorities saying: "Be friendly. Don't cut in line. Keep to the right while driving and walking", echo those issued in the run-up to the 2008 games in the capital.
A specially-issued Shanghai Expo Citizenship Pledge also requires residents of the host city to protect the environment, talk and dress politely – which means "no wearing pyjamas on the street" – and not to litter.
Street hawkers are being moved on, massage parlours closed and anything low-rent looking is being shifted away ahead of the event. However, most of the visitors to the expo are expected to be from China – only 5 per cent are expected to come from abroad.
Tourism mandarins dispatched a convoy of "expo caravans" around the country to lure ordinary Chinese to Shanghai for the event.
It's a bit expense for an average Chinese worker, about €16 for a ticket, which works out at more than two weeks' wages for about half of China's 1.3 billion people.
Ireland's representation promises to be strong at the expo, with between 10,000 and 12,000 visitors expected at the Irish pavilion each day.
Ireland's profile will also be boosted further by the pavilion operated by Irish microbrewery Porterhouse.
Source:
www.irishtimes.com