Time to think small in Shanghai
2009. 6 June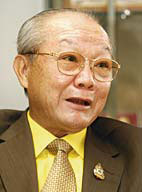 by Umesh Pandey
(bangkokpost.com) China's business capital is highly competitive but Thai SMEs might find more opportunities than larger companies.Thai entrepreneurs should start to look at the Chinese market in much greater depth, as China is becoming the next economic superpower with huge long-term opportunities, says Virachai Virameteekul, a PM's Office Minister.
"China is a very important country that we all have to engage with, and over the years it has seen great developments. This is something Thai entrepreneurs have to tap," Mr Virachai said at a recent seminar to promote investments in Shanghai.
Shanghai, China's largest city and also its financial hub, has become a very competitive market and Thai entrepreneurs need to distinguish themselves with value-added products, he said.
For its part, the government will continue to build bridges with China to help Thai businesses invest there. "The government hopes to build the current close relationship further and this will be seen from the planned visit of Prime Minister Abhisit Vejjajiva later this year," he said.
However, entrepreneurs have to do their homework before they enter the market, said Mr Virachai, who worked in Shanghai in the 1990s.
Over the past two decades he has observed major changes, saying the city's people have become far more sophisticated, which has pushed the demand for value-added goods.
"Shanghai is not just a market to be tapped but it can be a springboard for expansion into the rest of China. This is what Thai businesses have to look at if the market in Shanghai is saturated."
Thanakorn Seriburi, vice-chairman of Charoen Pokphand Group, Thailand's largest agricultural conglomerate, agreed, saying that Thai small and medium-sized enterprises also had good prospects in China.
"There is still a continued demand in China for the services sector, be it spas, restaurants, auto service centres, and developments around the beach areas of China," Mr Thanakorn said on the sidelines of the seminar.
Mr Thanakorn, who is considered the brains behind CP's multi-billion-dollar investments in China, said that Thai businesses looking to set up manufacturing operations in China need to do their research very carefully.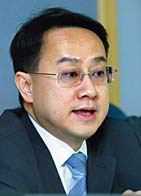 Virachai: Thai SMEs can't afford to opt out
"If manufacturers from Thailand want to go to China, they would need to look at the areas that have not been penetrated by the multinational companies, such as the inner parts of China. But if a manufacturer is looking at the major production centres, then it should rethink its strategy," he said.
China, which has become the world's factory, today produces everything from basic fabrics for clothing to passenger airliners for Airbus Industries.
Because large-scale manufacturing has reached critical mass in many sectors, SMEs instead may have better opportunities in China, as the scope of such investments is still limited in metropolitan cities such as Shanghai.
"The SME sector, especially the services sector, is an area that is welcome to invest in China and in Shanghai," said Zhu Wen Bin, director of the Shanghai Foreign Trade and Economic Commission.
Thai SMEs can hold 100% interests in businesses such as spas and restaurants, in which Thailand has great expertise, said Mr Zhu, who was in Bangkok to promote next year's six-month-long World Expo 2010 in Shanghai.
"However, you have to be aware that Shanghai has a lot of [these services] and it is a very competitive market," he said, adding that investment in real estate has also been surging, accounting for 35% of all applications for investment incentives last year in Shanghai.
Mr Zhu said incentives were available to high-tech companies, but only if they bring in new technology to the country. Companies that are not bringing in any new technology to China and are looking to set up bases there should therefore not go to Shanghai, as they would not be competitive.
"As for incentives to invest in Shanghai by foreigners, I have to say we do not give any more preferential treatment to foreigners. Both local and foreign investors are treated at par," he said.
Source:
www.bangkokpost.com