Chinese 'Leaf' EV Breaks Laws of Physics to Go Green
2010. 15 April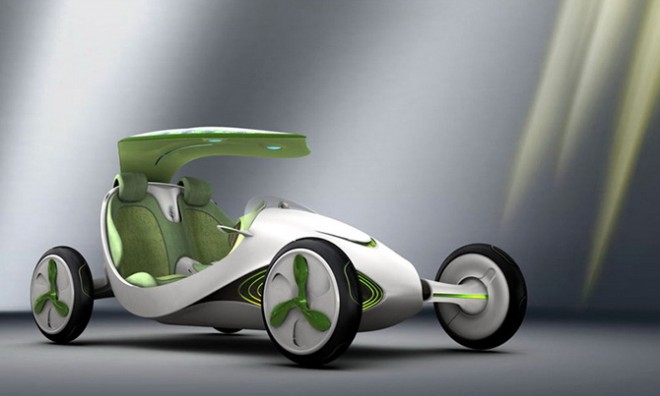 by Chuck Squatriglia
(wired.com) A Chinese automaker has taken every half-baked idea anyone's ever had for eco-friendlier motoring and used them all in a wild concept car, the laws of physics be damned.
Shanghai Automotive Industry Corp. is rolling into the Expo 2010 Shanghai China with the Ye Zi — literally, "Leaf" — concept that's topped with a plastic leaf, runs on renewable energy and somehow emits oxygen, making it the world's first "carbon negative" car.
And then there's the laser generator.
The car is named for the leaf-shaped roof, which houses photovoltaic cells. The flight of fancy continues with the wheel turbines, which spin like those god-awful wheels we used to see on Cadillac Escalades. SAIC claims the turbines generate electricity as the car is moving. The metal organic framework chassis captures CO2 for use in a microbial fuel cell, which would emit water vapor.
But what really caught our eye was the laser generator. According to a Google translation of a story posted at Autohome.com.cn, the car is capable of converting "the high concentration of carbon dioxide emissions from the laser generator into electricity for the vehicle lighting." That, it says, makes the Leaf a "negative emissions" vehicle. Maybe something was lost in translation.
No word from SAIC on the car's specs, let alone how any of this technology works, because it hasn't responded to the email we sent. But we ran all of this past Spencer Quong, an automotive engineer with 15 years experience in advanced vehicle technologies. Before launching the consulting firm Quong & Associates, he was an alt-fuels expert with the Union of Concerned Scientists.
Quong said all of the technologies, except that laser generator, which he'd never heard of, are feasible ways of producing electricity. But they aren't terribly practical in automotive applications. He suspects the metal organic framework refers to microscopic lattices, which the Department of Energy is studying as a means of storing hydrogen in fuel cell vehicles. The drawback to the technology is it's heavy and it typically generates a lot of heat when storing the hydrogen molecules and so requires a significant amount of cooling.
As for the wheel turbines, Quong says that in general they would create more drag than energy. However, there are some circumstances where wheel turbines might be used to generate electricity during braking or when going downhill, but the engineering precision required to do so makes them impractical.
Kind of like the rest of the car.
"I think overall, the car is breaking the laws of physics because it requires much more energy to run all of their devices," Quong said.
Too bad, because we like the idea of a laser generator.
Photo: SAIC
Source:
www.wired.com