Igor Rogachev:Bear and dragon forge bond
2010. 19 April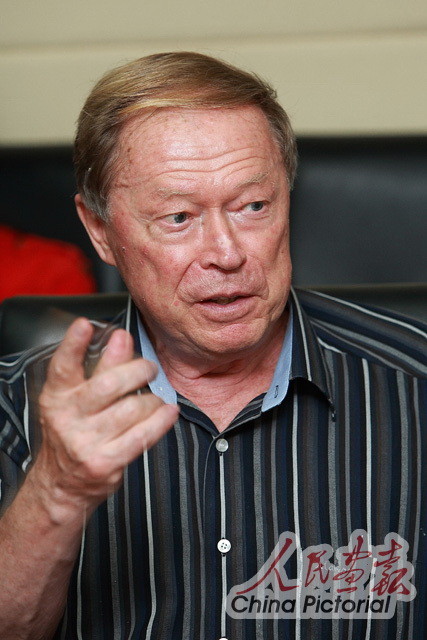 Igor Rogachev served as ambassador to China from the Russian Federation for 14 years.

(english.eastday.com) World Expo 2010 Shanghai China is just around the corner. I greatly appreciate the invitation from my Chinese friends, to pay tribute to this event. As a veteran diplomat who has witnessed China's growth over all the years, I look forward to the opening of this Expo with great anticipation. Chinese Version >>
I came to be inseparably attached to China since my childhood. I lived and worked in this country for nearly three decades. My diplomatic career, lasting for over 40 years, was bound up with this great nation. I have witnesses the long, often complicated diplomatic history of Russian-Chinese relations, from a"honeymoon"period to the"ice age"and then to eventual normalization of ties and establishment of a strategic partnership. During my work at the embassy, I witnessed great changes in China, especially the rapid progress of the three decades since its reform and opening-up. The reforms have boosted China's national strength and changed the lives of its people. Most conspicuous was the fast acceleration of its economic growth. It is really amazing that China has achieved the biggest growth rate among big powers in the world. The coming World Expo in Shanghai is also one of the greatest achievements of China's economic growth, and I would like to extend my congratulations to you. The World Expo is a pageant of global civilization as well as a cultural event long anticipated by Russia and China. It will bring the world to better understand China and to facilitate closer communication between Russia and China.
My family's connection with China dates back many decades. My father Alexey Rogachev joined the Northern Expedition in China in his early years and worked as an interpreter for Mikhail Markovich Borodin, Dr. Sun Yat-sen's chief advisor. Devoted to the study of Chinese culture, my father was a genuine"China hand". He was the first Russian to translate the Chinese novels Water Margin and Journey to the West in full. When I was still a baby, my mother took me to the Consulate General of Russia in Dihua (today's Urumqi) in Xinjiang, where I spent my childhood. During my college years, I chose to major in China studies. After graduation, I visited China several times as an expert of the former Soviet Union and later as the Vice Minister of Foreign Affairs of the former Soviet Union. I also interpreted for some Chinese leaders, including Mao Zedong, Zhou Enlai and Deng Xiaoping. Premier Zhou Enlai once awarded me a Medal of Sino-Russian Friendship with his own hands, which I believe is a paramount honor for a diplomat. In 1992, I was appointed by former Russian president Boris Yeltsin as the first Ambassador Extraordinary and plenipotentiary of the Russian Federation to China, an office I occupied for 14 years. By the time I retired, I had friends all over China. It wasn't just my father and me. All younger generations of my family have also become involved with China: My younger sister is a China study expert at the Russian Institute of Far East Studies, my grandson once studied in China and my daughter is now working in Beijing.
I was very sad when I left the ambassador's office after serving for 14 years. Since then, I have missed China and kept an eye on news from China every day. I once said that I would try to experience China's changes and genuinely feel its profoundness and greatness as long as I had time because China is a country that takes a lifetime to understand. I still cherish this belief today.
I also have a special attachment to Shanghai. In February 1989, I accompanied our then Foreign Minister Eduard Shevardnadze to Beijing to prepare for the China visit by Mikhail Gorbachev, our president at that time. However, Mr. Deng Xiaoping was not in Beijing; he was in Shanghai. So we traveled to the city and met Deng there. After shaking hands with Shevardnadze, Deng shook hands with me and said,"I remember you. You interpreted for me in the 1950s."This historical meeting is an unforgettable memory to me, and our visit to Shanghai also deeply impressed Deng. In May 1989, President Gorbachev paid a successful visit to China, which ended in the normalization of relations between our two countries. I witnessed this great moment in the history of the Russian-Chinese relationship.
I have visited China frequently and always considered it"going home."In the past nearly five years, I visited China 24 times and went to Shanghai every year. China has proceeded steadily in its reform over the past three decades, and Shanghai has registered the fastest growth. By pushing reforms into greater depths, this all-embracing city has succeeded in maintaining economic growth, social stability and cultural prosperity while ensuring constant improvement of the living standards of its people. Its current development is a perfect exemplification for the theme of this World Expo:"Better City, Better Life."It is the first time for the World Expo, a grand pageant, to be hosted in a developing country, something which is in and of itself extraordinary. By hosting this event, Shanghai reveals the strength of this fast-growing modern metropolis.
Russia has paid great attention to its participation in World Expo 2010 Shanghai China. With the theme of"New Russia: City and Citizen,"the Russia Pavilion will highlight the nation's beautiful dreams about modern cities as well as the inseparable connections between Russia and China. The exposition will give ordinary Chinese people an opportunity to understand Russia in a subtler way and help Russia better understand its outstanding neighbor China. This is a pleasant progress. It is my belief that the successful hosting of World Expo 2010 Shanghai China will surely lead to a better mutual understanding of the people of our two countries.
Russia and China have come along a bumpy road in their relationship over the past 60 years. I hope this relationship will continue and keep improving so as to create an environment of peace and harmony for our descendants. With all sincerity, I wish every success to World Expo 2010 Shanghai China and lasting friendship between the Russian and the Chinese people!
Source:
english.eastday.com