Construction for Macau Pavilion to start next month
2009. 18 April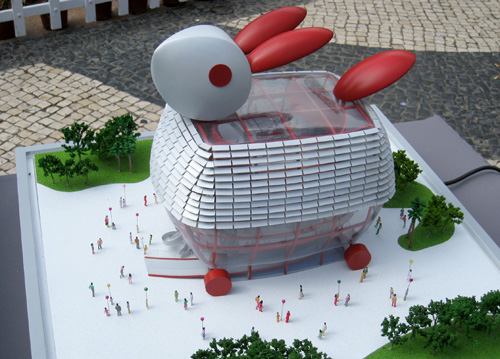 (macaudailiytimesnews.com) by Sara Farr in Shanghai
The first step of the construction of the Macau Pavilion for the Shanghai Expo 2010 will start on May 8, the same day the Macau Dynamic Trade Fair Week begins, Christiana Ieong, director of the Office for Preparation of Macau's Participation in the Shanghai World Expo said yesterday.

Speaking to reporters in Shanghai, on the sidelines of the "Macau Week in Shanghai" luncheon, Ieong said that the actual engineering of the Macau Pavilion was already underway. "The ground breaking for the [Shanghai World] Expo has already begun, but the ground breaking for the Macau Pavilion is set for May 8. That's one more step forward," she said.

In addition, the height of the construction of the building to be set at 19.99 metres was also approved yesterday morning. However, since the Macau Pavilion is a rabbit shaped lantern, only the body is set at 19.99 metres in height. The head will be an additional 10 metres, making it a maximum height of around 30 metres.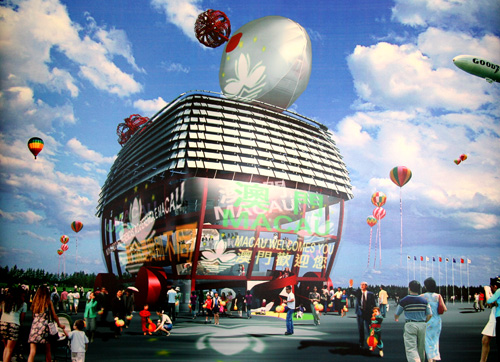 "The 19.99 metres is the year of the return of Macau to our motherland [China], so that means a lot to the whole population of Macau," Ieong said, adding that also approved was the positioning of the pavilion, which will now be a "welcoming lantern on the avenue towards the China Pavilion."

According to Ieong, it signifies Macau's role as a bridge between the East and the West as it not only welcomes guests from all over the world to the China Pavilion, but also celebrates the 'one country, two systems' because Macau has been given a separate pavilion from that of China, however still within the same floor area as that of China.

"That's the advantage of the 'one country, two systems' policy," she added. But Macau is more advantaged than other countries and regions, having been allowed to have a replica of the Tangshan pawnshop as well apart from having the pavilion.

"Besides the two buildings [the pavilion and pawnshop] we will have around 100 performances and cultural activities including parades and local singers will be invited to perform as well," she said.

Macau is also planning a forum – the subject of which is yet to be decided – and before the expo a forum on how to make a "better city, better life" is also planned.

And with so much expectation and eyes set on the pavilion for the world expo in Shanghai, Macau has changed its original interior decorations planned for the rabbit in order to allow for the flow of visitors and guests.

Originally planned was a theatre-like video showcasing Macau, but since it is expected that the number of visitors a day to the SAR's pavilion alone ranges at around 7,000, organisers at the preparation office have changed the interior layout according to need.

What is now expected is a new fast pace pavilion where visitors can walk through and fast but however be "captured" by the strong visual images of Macau featuring cultural and heritage sites. "The layout of the inside of the pavilion has been totally changed to adapt to the exhibition's needs, mainly that of cultural performances. We will have a small balcony outside of the Macau Pavilion to attract audiences," Ieong said, adding that "because we projected to have 70 million visitors in the whole six months for the whole expo – 25 percent for the China Pavilion and probably five to 10 percent for the Macau Pavilion – and even with that we have to manage 8,000 visitors per day which is very high for us, and with our maximum capacity at around 7,000, we have to think of a way to pass our message to visitors who cannot get into the pavilion."

"We want them [visitors] to walk and be fast and just strike them with interesting and strong images about Macau. Because there are going to be 200 something pavilions so the main question is how are we going to make ourselves stand out in these 200 something pavilions," she added. These interesting and strong images about Macau are set to be carried out with high-technology and multimedia.

However, its content is still a secret, Ieong said, adding "the expo for us is not only a way to attract visitors to the pavilion, but to Macau as well in the future, that is the objective." Another aim of Macau's participation in the expo is to create a platform for trade, and therefore not only will visitors get to see the territory's cultural and social development, but also the economic side to it all.

Last month, the expo bureau had already approved and appointed travel agents to sell the tickets – China Travel and New Sintra. The building is expected to be completed by the end of this year, while the exhibition part is expected to be completed at the beginning of next year. "Hopefully," she added.

"We're running on a tight schedule," Ieong said, quickly adding "we are not late, we got all the data for the project is so tight already and we have made so many modifications according to the new data according to the new environment."

Source: (www.macaudailytimesnews.com)