C Y Foundation and Network Movie Centre co-organizing contest
2009. 8 June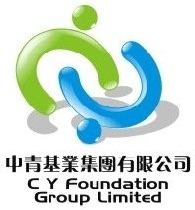 (cyfoundation.com)
C Y Foundation Group Limited, a Chinese interactive digital entertainment company, ("C Y Foundation" or "the Group", HK Stock Code: 1182) and Network Movie Centre of the Chinese Communist Youth League are co-organizing a nationwide contest to select candidates to represent China as Ceremonial Officers at Expo 2010 Shanghai. The contest will also enable C Y Foundation to expand its customers group and promote its International E-sports Festival ("IEF") brand.
The contest, using the theme "Energetic Expo, Appealing Youth", was unveiled at the Great Hall of the People, Beijing today. It marks the kickoff of preparation work for the reception of visitors to the Shanghai Expo. Supported by the Bureau of Shanghai World Expo Coordination, the national competition will apply high level selection criteria to identify candidates who best represent China and embrace its spirit of culture and hospitality.
 "This event follows the successful IEF co-organized by the Group and the Chinese Communist Youth League in November last year," Mr Theodore Cheng Chee Tock, Chairman of C Y Foundation said. "Our aim with this event is to stimulate Expo enthusiasm among the large sector of young people who may also be participants on our network of digital entertainment games. As a key member of the competition organizing committee, C Y Foundation will be benefited from the competition and will also help promote new events we may launch. Successful candidates will undergo a detailed training programme and participate at the 2009 IEF reception, enhancing the quality of this international event."
Approximately 300 guests attended today's launch ceremony, including media, government officials and representatives from various enterprises. Guests included Ablet Abduréshit, Vice President of the State Honorary Board Director of CWFH, Zhang Li, member of National Committee of the Chinese People's Political Consultative Conference and Hu Jinjun, Vice President of Shanghai Expo Bureau. Expo Ambassador, Jacky Chan performed the Expo theme song "City".
The 12 month exercise, known as the Expo 2010 Shanghai Ceremonial Officer Selection Programme, is expected to reach more than 50 million people in over 20 cities across China and will involve electronic and print media programmes, promotions and high profile events. Candidates who enter the semi-final of the selection programme will make up a strong support team helping in the Expo related events, while the 300 finalists will form the team of Ceremonial Officers responsible for promoting the Expo and China to the world.
- end -
About C Y Foundation Group Limited
C Y Foundation is an interactive digital entertainment company that provides quality entertainment across China. It is the only company dedicated to organizing and running P2P tournaments for prizes throughout the mainland and its online entertainment platform operates across a network of "green" Internet cafés.
Issued by Porda International (Finance) PR Group for and on behalf of C Y Foundation Group Limited. For further information, please contact:
Fax:  (852) 3150-6728