Multinationals look to grow in the wind
2009. 8 June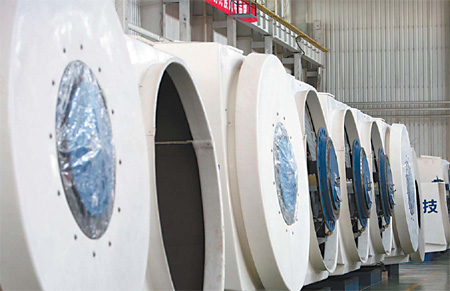 by Wan Zhihong
(chinadaily.com.cn) On the outskirts of Shanghai, German engineering giant Siemens began construction on a 581-million-yuan wind power equipment plant in late May that marks the company's entry into China's wind energy market.
The new 180,000-sq-m facility will at first produce blades for turbines with capacity of 2.3 mW and 3.6 mW, and then manufacture nacelles. At startup it will make equipment with a combined annual capacity of 500 mW.
The plant is expected to come on stream in the second half of 2010, with the first turbine blades and nacelles scheduled to leave the plant during Shanghai's Expo 2010.
"With this new facility in Shanghai, Siemens is gaining a foothold in the fast-growing wind energy market in China," said Wolfgang Dehen, CEO of the Siemens energy sector and member of the managing board of Siemens AG.
"We are also rigorously advancing the internationalization of our manufacturing network for wind turbines to optimally meet the needs of our customers in Asia, Europe and America."
By end of 2008 wind power capacity in China reached 12 gW, accounting for 10 percent of the world total and the fourth-highest output globally. The government has called for further development of renewable energy, including that from the wind, as one of country's strategic measures to cope with the economic crisis.
"China could soon become the largest wind energy market in the world. So we are intensifying our commitment to green technology to further expand our leading global position," said Richard Hausmann, CEO of Siemens North East Asia and president and CEO of Siemens China.
Since Siemens began wind turbine production through acquisition of the Danish company Bonus Energy in 2004, it has expanded its worldwide fabrication capacity to become the global market leader in offshore wind energy hardware, said Hausmann.
"With this investment, we took a bold step forward to the goal of 40 percent of all orders coming from our environmental portfolio by 2010," he said.
Industry insiders said that China's wind power capacity will grow 64 percent this year to 20 gW. Last year the sector grew 105 percent.
By about 2020, wind power will likely surpass nuclear power as China\'s third-largest source of electricity, after thermal and hydropower, the analysts said.
Today the world's top wind energy companies - including Vestas from Denmark and Gamesa from Spain - have made large investments in the Chinese market. Vestas, the world's leading wind energy company, in April unveiled a new turbine tailored for China - the first-ever market-specific turbine developed by the company.
Once its new factory in Inner Mongolia goes into full operation, Vestas plans to produce 800 of its new V60-850 kW units a year, said Lars Andersen, president of Vestas China.
Andersen said that China and the US will remain the top two wind power markets adding he is encouraged that China expects wind power capacity to hit 100 gW by 2020, up eightfold from 2008.
In addition to expanding manufacturing facilities in China, some multinationals are also eyeing the business of providing services to the domestic wind power market. Norway's DNV (Det Norske Veritas), one of the world's leading certification companies, said it plans to take an active part in China's wind power market.
DNV, which started its services business for wind energy projects in 1984, now provides about 60 percent of all global wind power certification. China's sector is growing at the highest pace in the world, and the company cannot neglect the huge potential in the market, said Henrik Madsen, president and chairman of the executive board of the company.
The company's current portfolio in wind energy includes measurement of wind farms and certification of wind power equipment. Madsen said that the company's work in China will focus on two segments - assessing wind energy at specific sites to help developers to make best use of it and improving efficiency of the wind farms already under operation.
"The efficiency of China's wind farms is relatively low. It is necessary to help them improve their efficiency for the healthier development of the whole industry," said Madsen.
The company is also placing high hopes on the offshore wind power projects in the next few years. It has already certified China's first offshore wind power project, a pilot plant developed by China National Offshore Oil Corp.
Shi Pengfei, vice-president of the China Wind Energy Association, said that compared with domestic companies, foreign companies still have many advantages in areas such as technology and management systems.
Improvements in the domestic wind power industry will be needed through increasing turbine capacity, enhancing energy transfer efficiency and decreasing processing costs, he said.
Source:
www.chinadaily.com.cn