Freedom in dance
2010. 23 April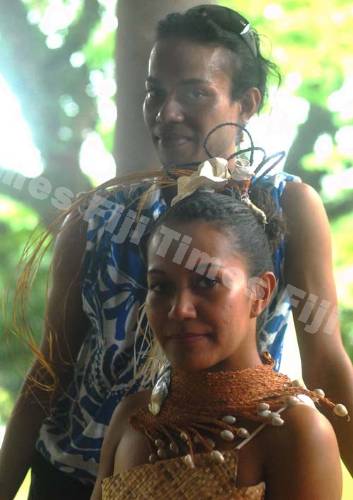 Sorpapelu stands behind fellow dancer, Katalina Fotofili who models one of his exotic necklaces which fuses magimagi and seashells

by Irene Manueli
(fijitimes.com) Sorpapelu Fatiaki is disarmingly humble and talented.
He is one of the familiar faces of Oceania Dance Company Fiji's leading contemporary dance ensemble that operates from the University of the South Pacific's arts program.
Regarded highly among his artistic peers, his repertoire which includes the creation and direction of his very own dance production (Le' Fesau'ta-The Prodigal Son), is impressive to say the least.
It is a reflection of his passion, dedication and perserverance to his art, particularly given the challenging environment our artists struggle in.
He joined the program nine years ago.
In the first few years, he juggled it with finding paid employment.
After several years, it dawned on him that he was the "only Rotuman contemporary dancer" and that he should instead be concentrating on the blessings he already had.
Aside from entertaining, he has helped in youth programmes, in which he shared some disciplines of dance.
Aside from fulfilling the artistics cravings in him, Sorpapelu has found dance to be a healer.
It has helped him discover his "authentic self".
For years he had struggled with his feminine side.
Dance, he said, helped him find the solid grounding he needed to be comfortable with who he is.
"It's the freedom to be anyone and anything on stage," he adds.
"The freedom of expression through dance."
Sorpapelu has toured several countries to showcase his art, and next week he travels with the dance company to China for the World Expo where they will share some of the unique Pacific island magic.
Expo 2010 in Shanghai is a grand gathering of the world's cultures. It's expected to be a rigorous tour as they are scheduled to dance five 20-minute segments every day for the entire month that they're there.
Yet, there's no obvious anxiety with Sorpapelu.
There's instead a regal calmness as he speaks of the upcoming task.
As expected, rehearsals have become more demanding. They usually begin early and after a noon break, continue until about 11pm.
Sorpapelu admits to being fastidious in his work. He can't help it, he confessed.
His diligence is visible in the intricate detail of his costumes and accompanying accessories. All nine costume sets for their tour are his creations.
The elegant unique necklace modelled in the adjacent picture is a symphony of magimagi and seashells; even the headpiece is of beautiful showmanship.
It's all part of the Oceania group's strategy to get their audience 'WOW-ing' about Fiji and the Pacific Islands.
"We want them to go 'wow' and leave knowing that we, the people of the Pacific, are beautiful and talented people," he said.
Sorpapelu is confident in his skills and plans to design fashion in the near future.
"I'd really love to do that and one day I'd want to have my very own label," he said.
However, his busy dance schedule means he has to shelve that for the moment.
"One thing at a time," he said. "So that when I do something, I do it thoroughly well."
* This evening the Oceania Arts Centre will showcase some of the dance items and art pieces that will be displayed at the World Expo. The event is to also celebrate Earth Day "in true Pacific style". Entitled Tangata Fenua. Tangata Moana (People of the Land. People of the Sea), the event will be held at the Pearl South Pacific Resort from 7pm. Cover charge is $10.
Source:
www.fijitimes.com