China Eastern, Shanghai Airline shares suspended
2009. 8 June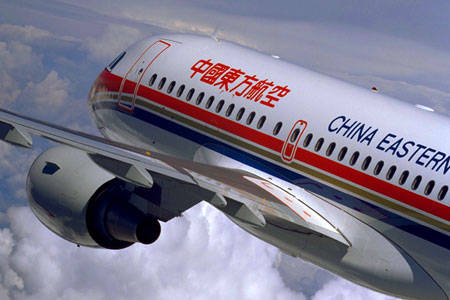 SHANGHAI (AP) )— Trading in shares of China Eastern Airlines and smaller rival Shanghai Airlines was suspended Monday, though both carriers would not comment on reports they plan to merge.
China Eastern has gotten hundreds of millions of dollars in government aid as it struggles through the economic slowdown. Rumors that China Eastern might tie up with Shanghai Airlines or another competitor have been circulating for months.
"Once things are decided, we will put a company announcement on the Shanghai Stock Exchange Web site. But nothing can be said at this moment," said Zhu Yan, a China Eastern spokesman. Calls to Shanghai-based China Eastern's board secretary, Luo Zhuping, rang unanswered.
China Eastern's shares were suspended from trading in both Shanghai and Hong Kong. Shanghai Airlines' Shanghai-traded shares were also suspended.
But Wang Wanlong, a Shanghai Airlines spokesman also would not comment.
"I know nothing," Wang said.
Reports by Hong Kong's South China Morning Post and other newspapers said China's civil aviation administration had ordered the two airlines to merge.
Like many carriers, both China Eastern and Shanghai Airlines reported losses last year and were already facing troubles before the worst repercussions of the global financial crisis hit China's economy.
Merging the two carriers would reportedly give them more than half the local market, which is also shared with China Airlines, China Southern Airlines and other regional carriers.
Shanghai, China's financial capital, is a key market and the city's plans to host the 2010 World Expo next year is seen as an opportunity for the carriers to boost their profile and business.
China Eastern has so far obtained 7 billion yuan (about $1 billion) in government bailouts, with more to come, while Shanghai Airlines has gotten 1 billion yuan ($147 million).
The government, which plays an active role in industry planning, appears determined to engineer a turnaround for China Eastern, which failed in an earlier attempt to enter a strategic alliance with Singapore Airlines.
Late last year, regulators put aviation industry veteran Liu Shaoyong in charge of revitalizing the company and improving its competitiveness.
China Eastern announced last week that it plans to form a joint-venture airline with the government of southwestern China's Yunnan province, a prime tourism destination.
China Eastern's Shanghai-traded shares rose 1.1 percent on Friday to 5.33 yuan. They have risen 29 percent so far this year. Shanghai Airlines' shares rose 4.4 percent on Friday to 5.92 yuan. Its shares are up 35 percent so far this year.
Source: Associated Press