Pariah states show warm, fuzzy side at Shanghai Expo
2010. 27 April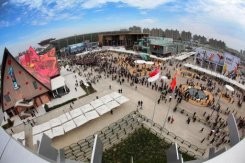 Wags are already calling it "Axis of Evil Square" -- a corner of Shanghai's World Expo where the North Korean and Iranian pavilions put on a friendly face to the world.

(news.malaysia.msn.com) The Expo opening Saturday features a line-up like never before as Chinese allies seen as pariahs in the West -- including Myanmar and Sudan -- join other states trying to show off their accomplishments.
The list shows the wide spectrum of 192 countries that China has brought together for the largest World's Fair yet, attracting every country with diplomatic ties with Beijing except the principality of Andorra.
"I dont know the name of Expo 2010s Master Planner, but Im sure that -- whoever it is -- has a good sense of humour," Shanghai blogger Adam Minter wrote of the pairing of the North Korean and Iranian pavilions as neighbours.
The pavilion of the United States -- which is spearheading efforts to rid North Korea of its nuclear capability and halt a suspect Iranian nuclear programme -- is at the opposite end of the site, with China's in between.
It marks the first time North Korea has participated in an Expo. Its pavilion will celebrate the nation's history, culture, folk customs and modern buildings, the official Xinhua news agency said.
It also plans to shed light on life in the secretive country using sculpture, pictures and video.
"The 2010 Shanghai World Expo will be the most sweeping World Expo ever held," the vice chairman of North Korea's Chamber of Commerce, Ri Song Un, told Xinhua last month, adding it would be a chance to work with other countries.
The Pyongyang Art Troupe will take centre stage on the Expo's North Korea Day on September 6, performing fan, drum, and "small bell" dances.
Iran, meanwhile, will display a collection of 152 Persian paintings, photos of its Islamic Revolution and a poster collection focusing on the "environment and mankind", the Tehran Times wrote last week.
The pavilion will also feature video art projects and Pardehkhani, or curtain-reading, in which story-tellers recount tales depicted on a painted curtain, the report said.
"Iran will present the civilization of its cities," Iranian consul-general Mohammad Reza Nazeri said in comments on the official Expo website.
Myanmar, also known as Burma, is another largely isolated country heavily dependent on ties with China that aims to use the Expo to give visitors a taste of life inside its borders.
It will use "advanced display methods to introduce local customs, rich resources and brilliant culture of Myanmar," according to the Expo website.
The theme of Sudan's exhibition will be "City and Peace", promoting the war-torn country as a quiet and harmonious place.
A multimedia area will show films on the Naivasha Agreement, or Comprehensive Peace Agreement, that was signed in 2005 and ended a two-decade north-south civil war, the longest in Africa, after the loss of 1.5 million lives.
The peace deal remains fragile, and in a separate conflict, fighting continues in the western Darfur region, where civil war since 2003 has killed some 300,000 people and displaced another 2.7 million, according to UN figures.
(AFP)
Source:
news.malaysia.msn.com