Weather Modification for Expo Unlikely
2010. 28 April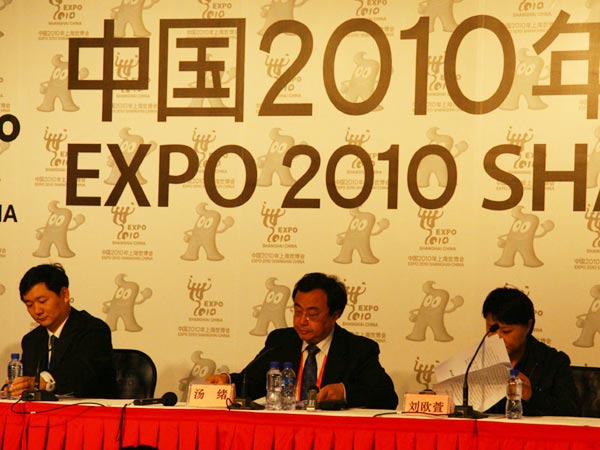 Tang Xu, head of Shanghai's meteorological department, speaks at a press conference on Tuesday, April 27, 2010. Tang says the city will see good weather when the 2010 World Expo opens this weekend. [Photo: CRIENGLISH.com]

by Zhang Zhang
(english.cri.cn) The weather department in Shanghai has said it will not carry out large-scale weather modification when the 2010 World Expo opens over the weekend, but it is ready to help organizers ensure the opening goes smoothly in the event of adverse weather.
Tang Xu, head of the city's meteorological bureau, said Tuesday that interference would hardly be effective in Shanghai due to the convective cloud clusters that usually determine the city's weather during this season.
"Weather modification could only work in a limited area shrouded by stratiform clouds, but the task is much tougher in the face of convective cloud cluster," Tang revealed at a press conference held at the Expo's newly opened International Broadcast Center.
Weather services will offer early warning against thunderstorms and typhoons, commonly seen during the time of the Expo's run, he added.
Celebrations for the opening of the Shanghai Expo, the first ever to be held in a developing country, include an indoor performance and a fireworks show that reportedly will overshadow the Beijing Olympics opening gala on Friday night, as well as a ceremony on Saturday marking the formal operation of the Expo Park, which covers 5.3 square kilometers along both banks of the city's Huangpu River.
The city's meteorological department is forecasting favorable weather over the weekend based on comprehensive analysis by experts, Tang Xu revealed.
"However, we have worked out several plans to help organizers run the activities smoothly in any weather conditions. Organizers may alter the timing of outdoor activities in case of extreme weather conditions." He revealed that the fireworks display may be shortened if necessary.
The city has been upgrading its weather forecast system since March 2009. So far, its forecast network consists of 228 ground observatories, a radar chain in Qingpu and Nanhui Districts as well as nine satellites that can give two-week forecasts of temperature, air pressure, humidity and visibility.
More than 70 million tourists from home and abroad are expected to visit the Expo between May 1 and October 31.
Source:
english.cri.cn