USA Pavilion ready to go
2010. 29 April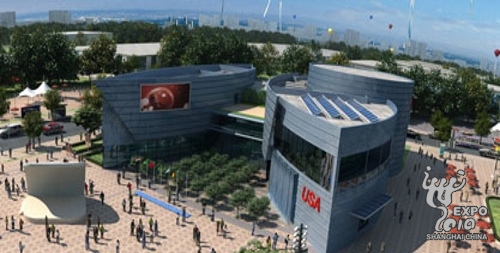 by Susan Tart
(china.org.cn) The drama is over. The U.S. not only will be participating in the World Expo, but it will be participating at full speed when the Expo opens Saturday.
"We're gonna be ready. We were actually one of the last to start, but we're going to be one of the first to finish," said Martin Alintuck, director of communications for the USA Pavilion.
After a grim start and what looked to be a no-show for the U.S. at the 2010 Expo, Secretary of State Hillary Clinton made it her personal mission to attract global sponsors not too affected by the economic crisis to raise funds for a pavilion. During the Expo's trial opening earlier this week, the USA Pavilion was among the most-visited sites.
Many of the pavilions are still being constructed and have a long way to go before being ready to receive guests. Alintuck says the biggest hurdle for the US now is to put on a great presentation and "not just have a building, but also create an experience that's going to be special for so many people."
That will no doubt be difficult with this year's competition. Countries and organizations are going all-out to impress visitors, doing everything from giving away free diamonds to building a ski lift ride.
While the U.S. prefers to keep its program a surprise for visitors, Alintuck promises lots of cultural and musical acts throughout the next six months, including high-level visits from government officials. He believes this year's Expo even has the potential to change the future.
"I think it's always going to be a challenge to participate," he said, referring to the 1994 legislation passed by Congress that forbids the State Department to spend money on the Expo. "But if our participation in the Shanghai Expo is as good as I think it's going to be, I think there's going to be a lot of momentum to just build on this and improve and make an even better one next time."
Source:
www.china.org.cn