Brunei Pavilion A Big Hit At World Expo
2010. 3 May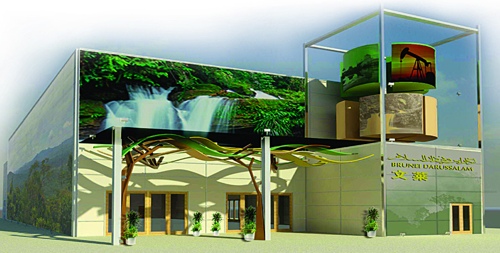 by Chua Guan Cheong
(brudirect.com) The Brunei Pavilion welcomed 14,000 guests on the first day of operation at the Shanghai World Expo 2010 on May 1, exceeding the expected number of visitors the pavilion could handle.
Everything went spick and span on day one with none of the chaos that accompanied the trial run when the pavilion handled 10.000 visitors.
With the operating hours clocked at eleven for the first day, the pavilion staff handled almost 1,300 people per hour, way beyond the expectations from all quarters.
In an interview yesterday, Rozaimee Abdullah, first secretary of Department of Economics Cooperation at the Ministry of Foreign Affairs and Trade, expressed his surprise at how well the pavilion coped with the huge unexpected turnout.
"We were surprised by the sheer number of people coming in. At first, we were expecting the worst hut the crowd were really orderly, and the whole thing ran smoothly." said Rozaimee.
"One thing we can improve on though, is the language barrier. Many people in Brunei underestimated the language issue. They did not understand that English is riot widely spoken in China, except for the younger generations and that's why we need to take in Chinese assistants."
However, Rozaimee said that they would not be rushing to employ extra help. -We'll observe the situation before reassessing our next move. Remember, it's only the second day of the expo."
Many visitors at the Brunei Pavilion generally had no knowledge of the Sultanate, except that Brunei is the home of singer and actor, Wu Chun.
Most of the Chinese youngsters, when visiting the pavilion will pop the standard question: "Will Wu Chun be coming to the Brunei Pavilion?"
The Brunei Day for Shanghai Expo falls on May 8, and many fans of Wu Chun are craving for the appearance by the Brunei superstar. It is not known whether \Vu will make an appearance at the expo.
Several activities have been lined up on May 8, including a 30-minute cultural performance on Brunei's traditional wedding at the Expo Culture Centre. -- Courtesy of Brunei Times
Source:
www.brudirect.com