Trans-Actions - On Kristiina Koskentola
2009. 9 June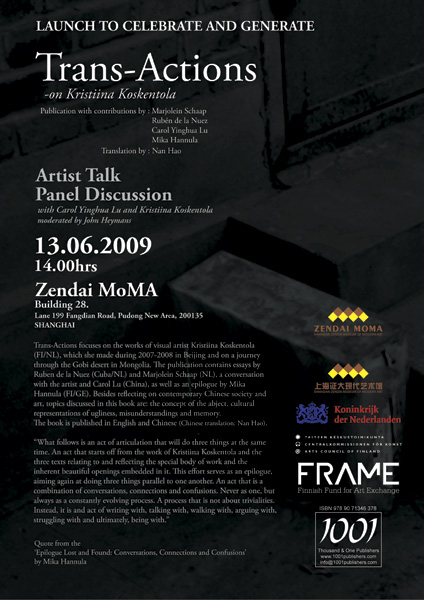 Finnish artist Kristiina Koskentola will launch her new publication "Trans-Actions- On Kristiina Koskentola" in Zendai MoMa contemporary art museum in Shanghai 13.6.2009 at 14:00 and in Timezone 8 bookstore in Beijing 17.6. at 17:30
Trans-Actions focuses on the works of visual artist Kristiina Koskentola (Finland/Netherlands), which she made during 2007–2008 in Beijing and on a journey through the Gobi desert in Mongolia.
The publication contains essays by Ruben de la Nuez (Cuba/Netherlands) and Marjolein Schaap (Netherlands), a conversation with the artist and Carol Lu (China), as well as an epilogue by Mika Hannula (Finland/Germany).
Besides reflecting on contemporary Chinese society and art, topics discussed in this book are: the concept of the object, cultural representations of ugliness, misunderstandings, and memory.
'What follows is an act of articulation that will do three things at the same time. An act that starts off from the work of Kristiina Koskentola and the three texts relating to and reflecting that special body of work and the inherent beautiful openings embedded in it. This effort serves as an epilogue, aiming again at doing three things parallel to one another. An act that is a combination of conversations, connections and confusions. Never as one, but always as a constantly evolving process. A process that is not about trivialities. Instead, it is an act of writing with, talking with, walking with, arguing with, struggling with and ultimately, being with.' 
A quote from the 'Epilogue Lost and Found: Conversations, Connections and Confusions' by Mika Hannula
There will be an artist talk and a panel discussion with Carol Yinghua Lu and the artist. The discussion will be modereted by John Heymans and translated into Chinese by Nan Hao.
The book is published in English and Chinese (Chinese translations by Nan Hao).
Design by Ricardo Liong-A-Kong. 
ISBN 978 90 71346 378
Publishers: Kristiina Koskentola & Thousand & One Publishers
www.1001publishers.com  info@1001publishers.com