565,000 Visit Expo Park within First Three Days
2010. 4 May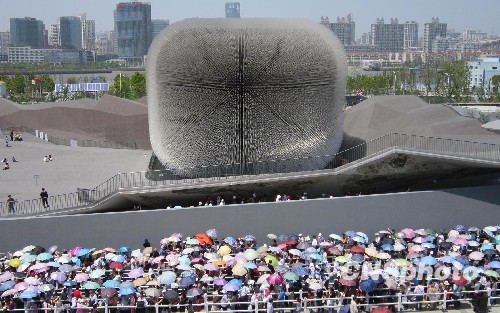 Crowds of visitors gather in front of the British pavilion despite the hot weather in Shanghai on May 3, 2010. [Photo: chinanews.com]

(english.cri.cn) The total number of visitors to the Shanghai Expo has hit 565,000 after its first three days of operation, China's national media Chinanews.com reports Tuesday.

The pavilions of the Shanghai Expo welcomed over 132,000 people on May 3, a sharp drop when compared with figures from the previous two days. However, daily attendance should hit a high on May 4, which is the first standard day of the Shanghai Expo, according to the report.
The China pavilion and the U.S. pavilion are the most popular, and all advance tickets for the China pavilion were sold out in five minutes a day before the first standard day. Statistics cited by the Chinanews report reveal that at least 40,000 people will visit the China pavilion on May 4.
To reduce any inconvenience caused by the massive influx of tourists on that day, organizers have canceled book selling during the daytime, with nighttime tickets selling between 16:00 and 20:00. The visiting time for nighttime ticket holders begins at 17:00.
The media suggests that visitors choose one or two of the most popular pavilions to visit and not miss various nightly performances in Pudong Ceremony Square. That way, they can make good use of the limited time available during the Expo's peak days.
Source:
english.cri.cn