Eco Expo? How to go green at this year's show
2010. 4 May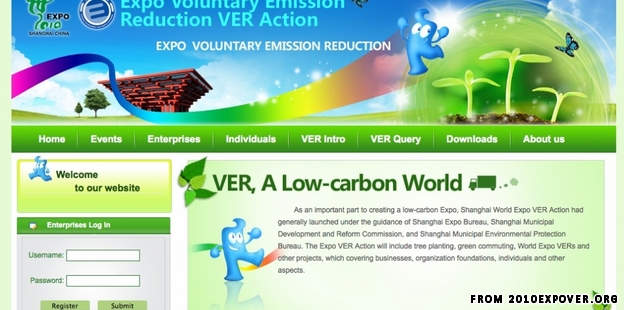 Put your online shopping addiction to good work here. There's no excuse not to try, you can probably find RMB 20 in your couch cushions.

by Coco Liu
(cnngo.com) In pursuit of a low-carbon World Expo, last week the Shanghai government launched an online platform that allows the public to pay for environmental projects that can offset carbon emissions from the 2010 Expo.
Each ton of carbon emissions is priced at about RMB 20 and can be purchased on the website, called Expo Voluntary Emission Reduction, says Shanghai Environment Energy Exchange (SEEE), a government-backed institution in charge of this issue.
The money flows into domestic alternative energy projects, most of which are in the country's poverty-stricken areas, according to the SEEE. The first personal purchase has already been made by a local official. 
Although more than 10 deals have been done in the first week, the institution says they have not set up a goal for this emission trade. "As voluntary emission reduction is still new in China, our purpose is to promote this concept not set an exact target," says the SEEE's spokeswoman Tracy Lu.
Another option of going green during the 2010 Expo was offered by Environmental Defense Fund, a U.S. environmental watchdog group. Through buying a Low-carbon Transportation Card at RMB 40, the city's card holders donate RMB 20 to offset carbon emissions. Additionally, locally based NGO Roots & Shoots is still running their Million Tree Project, and those with guilty green consciences can pay RMB 25 to help stop desertification in northern China as well as offset the gift receiver's carbon footprint (which you can approximate online).
The six-month Shanghai 2010 Expo, which is expected to attract over 70 million visitors to Shanghai, is estimated to generate 9 million tons of carbon emissions, state-run news agency Xinhua quoted an expert as saying earlier this year.
Source:
www.cnngo.com