Marble's Shanghai showpiece
2010. 5 May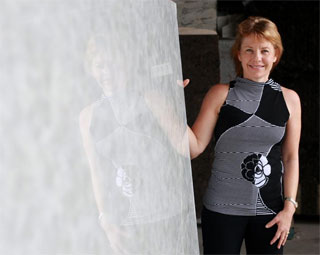 Aussie touch: Carolyn Spralja says Cairns Marble was delighted to be involved with the Australian pavilion at Shanghai's Expo 2010.

by David Sexton
(cairns.com.au) CAIRNS' skills are on show to millions after a local company designed and installed marble fittings at the Australian pavilion at Expo 2010 in Shanghai.
Cairns Marble at Portsmith used marble from quarries at Chillagoe and from the Pilbara in Western Australia to give the pavilion an Aussie touch.
Carolyn Spralja from Cairns Marble said Steve Jones from Wood/Marsh Architects in Melbourne asked them to supply the product.
"He found us on the internet and that's how we became involved in the Australian pavilion," she said.
"They chose our white pearl marble for its translucent properties which they've used as a feature wall.
"They also chose our bianca mist (a white, grey marble) and with that we applied a jack-hammer to it because they wanted a textured finish to bring out the crystal."
Thick 100mm slabs were made into a reception shroud with a rough texture, as asked for by the architects.
"We also used our Western Australia Pilbara green in the bathrooms and the white pearl was used for a big dining room table," she said.
The reception shroud was fully fabricated in Cairns and then shipped all the way to Shanghai. The other marble sheets were fabricated in Shanghai.
All up, about 13 tonnes of marble was built into the pavilion.
"It was decided that we'd finish the reception shroud here to give them the finish that they wanted," Ms Spralja said.
"With the rest of it, it made sense to send the slab material (the sheets) to China as fabrication is cheaper there."
Cairns Marble director Dino Spralja said in total, they sent about 13 tonnes of marble to Shanghai.
Expo 2010 opened last Saturday and the Australian pavilion already has proved extremely popular with visitors.
Ms Spralja said they were delighted to be involved with such a significant project.
"To see the photos of the finished product is just beautiful and to know that they are expecting about 38,000 to 40,000 people a day in the Australian pavilion is pretty amazing," she said.
The story shows how the internet can help Cairns businesses compete in a global marketplace.
"The internet has been a good medium for us, particularly when specifying Australian stone such as this," Ms Spralja said.
Cairns Marble recently supplied fabricated marble stone to the National Gallery in Canberra.
Source:
www.cairns.com.au