Floating Farm Ship Shines at China Shipping Pavilion
2010. 5 May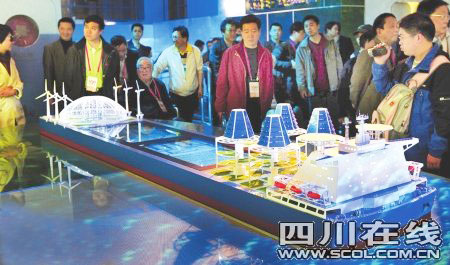 The model of the floating farm ship is surrounded by visitors at the China Shipping Pavilion in Shanghai on April 28, 2010. [File Photo: scol.com.cn]

(english.cri.cn) A country's shipbuilding ability represents its power throughout history, but at this year's Shanghai Expo, the China Shipping Pavilion not only exhibits the improvements in China's shipbuilding industry, but also showcases a new lifestyle concept for the future: "water life," the Beijing News reports.
Themed as "Better Shipping, Better City," the exhibition's model of a floating farm ship has attracted much attention. The model is about one meter long, with green vegetables and wind power generators in the fore and solar panels in the stern. On the deck between the fore and stern, people can see groups of hens eating on the grass and stocks of cyprinoid fish swimming around in a pool.
The real boat will be 330 meters long and 60 meters wide - as big as America's Nimitz-class super carriers - and will have multiple functions, such as food production, seawater desalinization, vegetable and fruit planting and poultry raising, according to the note beside the model.
Hu Xiaofeng, media manager of the China Shipping Pavilion, said the living environment on land will deteriorate in the future, and some people have to move onto the sea as there won't be enough space on land. The floating farm ship will make it possible for people in the future to have a better life in a better city on the sea.
The floating farm ship is designed to cause zero pollution, for example, the materials on the boat are recycled and the energy needed to plant food comes from the sun and wind, Hu added. The ship can move to the best place for food planting, poultry growing and energy generating, which makes it harmonious with nature.
Source:
english.cri.cn